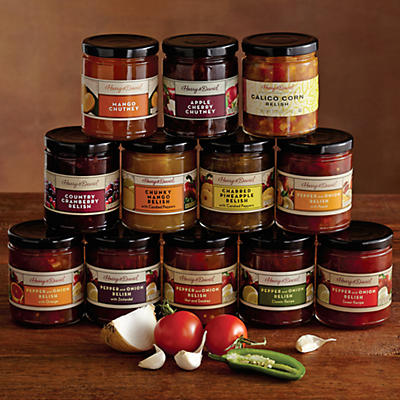 click on image to zoom
Click to see additional views
View our selection of greeting cards.
You can select and personalize a greeting card at checkout.
PRODUCT DESCRIPTION
Add a little zing to any meal or appetizer with our gourmet relish. Versatile and a customer favorite, our relish is always the kick of the party. It's perfect for easy entertaining. And it's available in nine unique flavors. Get creative in the kitchen without the stress.

Also in stores.
Your choice—click the SELECT ITEMS button above to choose any 12 flavors from the selection box:
Relishes (9-10.2 oz each)
Chutneys (9-10.5 oz each)
Items shown subject to availability
Standard Shipping and Processing: $12.99
For additional Shipping and Processing details click here.
Good value (3)
Quality brand name food (3)
Comments about Harry & David Pick 12 Relishes:
Good product
Comment on this review
Good value
Good variety
Great presentation
Quality brand name food
Recipient loved it
Scrumptious
Any occasion
Birthday Gift
Congratulations
Corporate Gift
Sympathy Basket
Thank you/Appreciation Gift
Comments about Harry & David Pick 12 Relishes:
Finally I get to write a review about these wonderful products. I have been using the Pepper and Onion relish and Red Sweet Pepper relish for years. There was another pepper relish that seems to have been discontinued to my chagrin! I cannot tell you enough about the delicious flavors of them. I use them when I am making an appetizer to use with chips---mix cream cheese and either of the above relishes together and combine well. Everyone raves about the taste. I love them when I am cooking---add a couple tablespoons of either or both to fried zucchini, peppers, potatoe medley, or to just fried potatoes, also to eggplant and peppers, Italian sausage, peppers and/or potatoes. I put them in a mixture of sweet potatoes, white potatoes, zucchini, yellow squash, eggplant, & carrot medley. I use them when making spaghetti sauce. I used them recently when I made orzo and peas, in minestrone soups, any Italian dish that I make. I LOVE the flavors and it dresses up everything I cook. I can't seem to do without them---also try them in meatloaf!!! They are so wonderful and right now I am ordering more because I am out of them. I am so sad that you have closed some stores that are near me because I liked running in and out to purchase products. I don't like ordering from the catalogs because of the postage/shipping. So I will take advantage of the free shipping now.
Thank you for listening---and PS, I also love your cranberry relish. YUMMY!, all of them!!!
Dee T.
Rhode Island & Florida
Comment on this review
Comments about Harry & David Pick 12 Relishes:
I ate straight out of the jar w/ corn chips & was gone in three days yes by myself...... OMG delish
Comment on this review
Good value
Quality brand name food
Comments about Harry & David Pick 12 Relishes:
We mix a jar with 8oz Philly Cream Chesse & chill. Then use small knot pretzels to dip with. M-m-m-m-m good. It is my signature dish for get-togethers. Everyone loves it & can't get enough. I'm ordering a case today because I used my last jar yesterday.
Comment on this review
Comments about Harry & David Pick 12 Relishes:
Create your own 12 pack & 4 pack does not offer all the dip options. Ie: Pepper & Onion Relish - Sweet Recipe is not offered.
Comment on this review