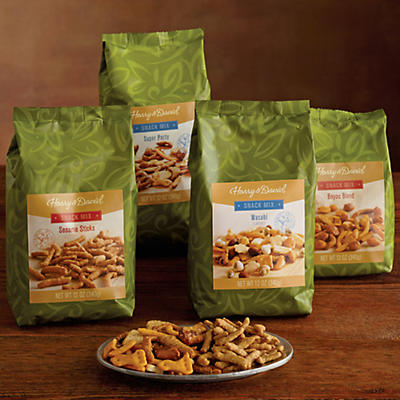 click on image to zoom
Click to see additional views
View our selection of greeting cards.
You can select and personalize a greeting card at checkout.
PRODUCT DESCRIPTION
Roasted, salty, savory or sweet. Our variety of party bowl snacks has something for everyone to snack on. Choose four to create the perfect selection of crispy and crunchy favorites at your next movie night or birthday party. Great for picnics or as an on the go munchable.

Also in stores.
Your choice—click the SELECT ITEMS button above to choose any four flavors from the selection box:
Pretzels:
Classic dipping (1 lb)
Honey wheat dipping (1 lb)
Peanut butter (12 oz)
Snack mixes:
Bar Blend (12 oz)
Bayou Blend (12 oz)
BBQ chipotle (12 oz)
Cheddar cheese (12 oz)
Hoot 'N Holler (12 oz)
Rice cracker (12 oz) Made in China
Super party (12 oz)
Wasabi (12 oz)
Wasabi beans (14 oz)
Wasabi peas (14 oz) Made in Malaysia
Sticks:
Garlic sesame (12 oz)
Honey-roasted sesame (12 oz)
Salt and pepper potato (5 oz)
Sesame (12 oz)
Sour cream potato (5 oz)
Sweet potato (5 oz)
Straws:
Aged sharp cheddar cheese (4.5 oz)
Parmesan cheese (4.2 oz)
Items shown subject to availability
Standard Shipping and Processing: $8.99
For additional Shipping and Processing details click here.
Do you have questions about this product?
Get answers from real customers and in-house experts with AnswerBox.
4 Questions | 4 Answers
Displaying questions 1-4
Q:

Can you describe the items that are in the margarita snack mix and the hoot n holler snack mix?

Asked on 4/9/2014 by Elle Blair from Colton, CA

1 answer

A:

Elle Blair -- Our Margarita Snack Mix contains Sunflower seeds, Peanuts, Multigrain crackers and Crescent crackers with a lime chili seasoning. Our Hoot n' Holler Snack Mix contains Peanuts, Corn sticks, Corn nuts, Crescent crackers and Pumpkin seeds with a paprika, garlic and pepper seasoning.

Answered on 4/14/2014 by Customer Care from Medford OR

Q:

Are the nutritional values of your snacks posted somewhere on your Website?

Asked on 7/2/2013 by Larry S.

1 answer

A:

Larry S., at this time we do not currently list the nutritional information for our items on our website. Please email us at service@harryanddavid.com for any specific information you need on any of our products.

Answered on 7/3/2013 by Customer Care from Medford, OR

Q:

Will you ever bring back the Trail Mix that had white chocolate chips, dried cranberries, etc. back in your product line? It's fabulous and I'd love to order some!

Asked on 6/3/2013 by Lisa from Cincinnati, OH

1 answer

A:

LIsa -- thank you for asking! Yes, we will be bringing back our Trail Mixes in their own "Pick 4 Trail Mix Assortment" in the fall.

Answered on 6/4/2013 by Customer Care from Medford OR

Q:

can you get 4-pack snacks of just sesame sticks?

Asked on 9/5/2012 by Jacque from Stanleytown, VA

1 answer

A:

Yes, you can choose any combination of snacks including 4 of the same. First, click the green "Select Items" button. Then click the snack type of your choosing; click multiple times on the same item if you prefer. Once you've selected 4 items, click the green "Save" button on the form. You can now add the item to your cart and proceed as normal.

Answered on 9/7/2012 by Customer Care from Medford, OR
Displaying questions 1-4