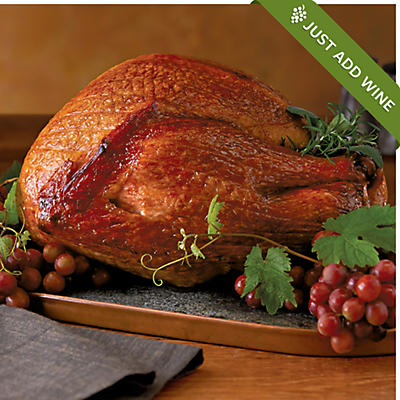 click on image to zoom
Click to see additional views
PRODUCT DESCRIPTION
Our Oven Roasted Turkey is the perfect gourmet entrée. It arrives ready to heat and serve, leaving you free to prepare for any occasion, big or small. Roasted to perfection, deliciously seasoned, and moist, this easy entrée will be a memorable addition to your feast. At ten pounds, this gourmet turkey will provide lots of delicious food to share.
Oven Roasted Turkey (10 lb)
Net Weight: 10 lb
Standard Shipping and Processing: $14.95
For additional Shipping and Processing details click here.
You can purchase this gift with your PayPal® account during checkout.
Good value
Good variety
Great presentation
Quality brand name food
Recipient loved it
Comments about Harry & David Oven Roasted Turkey:
It is worth the price. I purchased it for a party. It was a hit!!!!!!!!!!!
Comment on this review
Comments about Harry & David Oven Roasted Turkey:
If you want to impress your guests, this is THE Turkey to order. Imagine skipping all of the time, and detailed work, that is involved with preparing "the turkey".
I first ordered the 'Oven Roasted Turkey' for last years' Christmas Dinner. The directions were simple to follow; it was very tasty.
This year, I ordered it for Thanksgiving. Whether you are "Cooking Challenged", or not, this is an ideal time-saver for any holiday meal. The turkey arrived frozen; kept very well, in the fridge, until Turkey-Day. I had plenty of time to prepare my side dishes, since the turkey only needs to be re-heated (approximately 90 mins. - 2hrs.) It was moist; had a good flavor with, or without, adding gravy to it.
You can't go wrong with this one.
Comment on this review
Comments about Harry & David Oven Roasted Turkey:
You'll gobble up this entire turkey, or at least try to! That's what my sister reported. I sent the turkey to her because they could not have afforded a turkey this Thanksgiving otherwise, and she's all the way across the country from me. The turkey was large enough that her family of three will get many meals from it. My sister tries to eat healthy, natural foods w/o preservatives and was very pleased with this bird. Thanks, Harry & David!
Comment on this review
Comments about Harry & David Oven Roasted Turkey:
I hate waking up at 4 a.m. and missing the parades and the chat while I'm in the kitchen cooking! This turkey is pricey but worth it if nothing else than it assures I can actually relax and enjoy the day *with* the family.

Be careful with order dates. It isn't recommended that you re-freeze and doesn't always arrive frozen solid - so try to order so that it arrives the Monday before Thanksgiving. (Note: check online but USDA says you can also thaw safely in Microwave.)

Tastes great. Not "personal chef" great but certainly better than my cooking! I have purchased twice now and will do again next year.
Comment on this review
Do you have questions about this product?
get answers from real customers and in-house experts with AnswerBox.
6 Questions | 6 Answers
Displaying questions 1-6
Q:

can this item be shipped to Australia?

Asked on 11/4/2013 by John from Connecticut

1 answer

Q:

How much time does it take to heat?

Asked on 11/9/2012 by Patricia from Flushing, NY

1 answer

A:

Patricia, the turkey will take approximately 1 to 1 and 1/2 hours to heat in the oven, or can even be microwaved for just 20 minutes! Just remember that the turkey is pre-cooked, so heating it isn't even necessary.

Answered on 11/14/2012 by Customer Care from Medford, OR

Q:

Is this a free range turkey?

Asked on 11/8/2012 by Intentionaltim from Plano, TX

1 answer

A:

This is a USDA Grade A hen, and is not free range. Please note that no antibiotics, growth hormones, tenderizers or feed additives are given to the turkeys.

Answered on 11/14/2012 by Customer Care from Medford, OR

Q:

How long will the turkey keep in the fridge? I'm not planning to heat it right away? How many days in advance should I order to have it defrosted and oven-ready by Dec. 1?

Asked on 11/8/2012 by Carolrdc from Washington, DC

1 answer

A:

Carol, this turkey can be defrosted in the fridge for 3-4 days, or in 4-6 hours in a tub of cold water. Because it can be defrosted in mere hours and is ready to eat (with or without heating) you could order it at anytime!

Answered on 11/13/2012 by Customer Care from Medford, OR

Q:

Is it already sliced? How many people does it serve?

Asked on 11/8/2012 by Sue from Iowa City, IA

1 answer

A:

Sue, the turkey is not pre-sliced as it is a whole turkey, and it serves 14-16 people.

Answered on 11/13/2012 by Customer Care from Medford, OR

Q:

How many will this feed?

Asked on 11/2/2012 by Cindy from Texas

1 answer

A:

Cindy, this turkey is 10-12 lbs. and will feed approximately 12-14 people.

Answered on 11/2/2012 by Customer Care from Medford, OR
Displaying questions 1-6