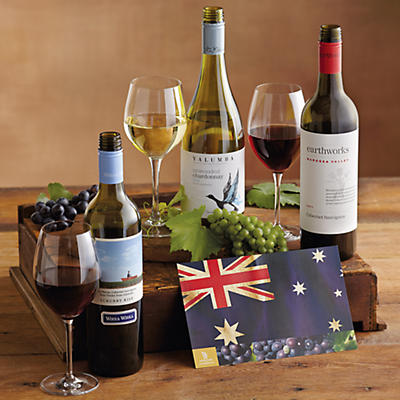 click on image to zoom
Click to see additional views
PRODUCT DESCRIPTION
Give a taste of Australia with this wine gift set from three unique, independent producers. Australia is one of the top producers of wine in the world and is especially known for its juicy take on the Syrah grape, called Shiraz down under. The Yalumba Y Series Unwooded Chardonnay has aromas of peach and cream and showcases the pure, fruity flavor of the Chardonnay grape. Wirra Wirra's Scrubby Rise Red is a unique blend of Shiraz, Cabernet Sauvignon, and Petit Verdot. Vibrant and flavorful, it has aromas of red berry fruit, with hints of spicy oak and mocha. Lastly, the Earthworks Cabernet Sauvignon is a bold vintage with notes of blueberry, plum jam, and vanilla. Food-friendly, complex, and extremely popular, Australian wines like these have helped the country maintain a strong foothold in the world wine industry. Take a walkabout through three quality Southern Australian vineyards with this gourmet trio.
Please note: This wine is sold and shipped separately by Wine.com; Harry & David is the marketing agent. Click here for further details and restrictions, and a list of states to which this wine can be shipped. You must be 21 years of age or older to order, purchase or receive delivery of wine. Offer void where prohibited by law. Promotions, coupons and special offers do not apply to products containing wine. Gifts that include both food and wine will be sent in two separate packages.
2013 Yalumba Y Series Unwooded Chardonnay (750 ml)
2010 Wirra Wirra Scrubby Rise Red (750 ml)
2011 Earthworks Cabernet Sauvignon (750 ml)
Standard Shipping and Processing: $17.95
For additional Shipping and Processing details click here.