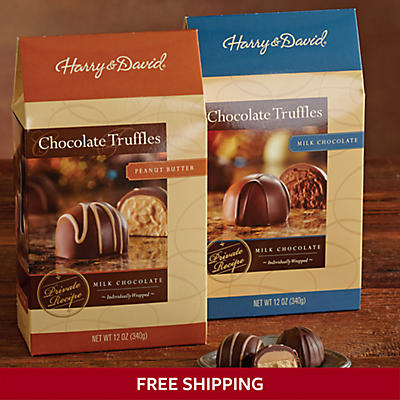 click on image to zoom
Click to see additional views
Pick Two Chocolate Truffle Boxes
---
---
---
Enjoy FREE shipping on this gift when you enter code GIFT at checkout. See details
PRODUCT DESCRIPTION
Centers of smooth blended chocolate and delicately decorated shells. Our signature truffles are made from a private recipe and have long been a perennial favorite. There isn't much as decadent or as rich as a traditional chocolate truffle.
Your choice! Click the SELECT ITEMS button above to choose any two flavors from the selection box (12 oz each):
Truffles:
After dinner assortment [dark chocolate, milk chocolate, dark chocolate mint]
Coffee house assortment [milk chocolate, coffee, espresso]
All dark chocolate
All milk chocolate
Moose Munch® Truffles
Nut barrel assortment [almond, hazelnut, peanut butter]
Peanut Butter
Mini mints:
Dark Chocolate
Milk chocolate
Standard Shipping and Processing: $8.95
For additional Shipping and Processing details click here.
Comments about Harry & David Pick Two Chocolate Truffle Boxes:
These truffles are the best of ANY I have EVER eaten and being a chocomaniac, I've eaten many. They are creamy and the taste lingers and relaxes into your mouth. I would recommend them to anyone for any occasion!
Comment on this review
Quality brand name food
Recipient loved it
Comments about Harry & David Pick Two Chocolate Truffle Boxes:
I love the dark chocolate truffles kept in the freezer. Every morning for breakfast (I don't drink coffee) I pop one in my mouth as my daily pick-me-up.
Comment on this review
Recipient loved it
So Good She Won't Share
Any occasion
Learning To Hum While Eat
Teasing Your Partner
Comments about Harry & David Pick Two Chocolate Truffle Boxes:
My lady is a dark chocolate freak so I got her the 2 pack of dark truffles. She has told me these are the best she has ever had, bar none. I wouldn't know, as she won't share them with me for fear of running out. She managed to stretch them from Christmas to March - an unbelievable demonstration of will power. I'm getting her more for her birthday - I might get lucky - and get to try one. Don't try them unless you wish to be spoiled and possibly addicted to only H&D truffles. I will have to get an order for myself (and hide them from her).
Comment on this review
Do you have questions about this product?
get answers from real customers and in-house experts with AnswerBox.
8 Questions | 8 Answers
Displaying questions 1-8
Q:

I need peanut butter and chocolate - what can you recommend?

Asked on 3/26/2014 by Karen from Cherry Hill

1 answer

A:

We offer Peanut Butter Truffles as one of our options in our Pick 2 Chocolate Truffle Boxes Gift. As for our other recommendation, our After Dinner Truffles selection offers Milk Chocolate and Dark Chocolate Truffles, as well as our Dark Chocolate Mini-Mints.

Answered on 3/26/2014 by Customer Care from Medford, Or

Q:

Do the after dinner truffles include only mint-flavored truffles in both dark & milk chocolate or do they have mint, milk chocolate and dark chocolate flavors (like the signature chocolate truffle variety) ?

Asked on 1/22/2014 by Gene from Bloomsburg PA

1 answer

A:

Gene, our After Dinner Assortment of our delicious Chocolate Truffles includes Dark Chocolate, Milk Chocolate, and Dark Chocolate Mint Truffles.

Answered on 1/22/2014 by Customer Care from Medford, Or

Q:

Are the boxes of dark chocolate truffles going to be available again?

Asked on 6/28/2013 by susan from United States

1 answer

A:

The information provided is current as of the 28th of June and may change without notice:

Our Dark Chocolate Truffles will not be available again until mid-October due to the extremely hot summer weather we are experiencing around the country.

Answered on 6/28/2013 by Customer Care from Medford, Or

Q:

Are these the same quality, shape, recipe, look, etc. as the box of 24 ct truffles?

Also, about how wide does each truffle measure? I am looking to give these as favors and need to buy boxes accordingly.

Asked on 4/5/2013 by Nad

1 answer

A:

Nad, Yes! These are the same quality Truffles as are in our boxes. These are individually wrapped and are about 1 1/4 inches in diameter.

Answered on 4/6/2013 by Customer Care from Medford, OR

Q:

can i order 2 dark chocolate truffle boxes

Asked on 3/1/2013 by momlouis from ridge manor fl

1 answer

A:

Absolutely! Click the Select Items button, and then click the Dark Chocolate flavor twice. Now you can add the item to your cart.

Answered on 3/1/2013 by Customer Care from Medford, OR

Q:

Are these individually wrapped?

Asked on 11/23/2012 by jackie jade

1 answer

A:

Yes, our Signature Truffles are indeed individually wrapped in this item. But probably not for long once you start eating them!

Answered on 11/25/2012 by Customer Care from Medford, OR

Q:

how many tuffles in a box of create your own 2 pack

Asked on 8/8/2012 by M from PA

1 answer

A:

Each box is 12 oz, with approximately 18 delicious Truffles included.

Answered on 8/27/2012 by Customer Care from Medford, OR

Q:

How many truffles are in each 12 oz packages?

Asked on 7/21/2012 by PT from Indio, CA

1 answer

A:

Our boxes of delicious Truffles are sorted by weight, and each box contains 12 oz of product. At roughly .68 oz per truffle, you can expect roughly 17 truffles per box on average.

Answered on 8/22/2012 by Customer Care from Medford, OR
Displaying questions 1-8