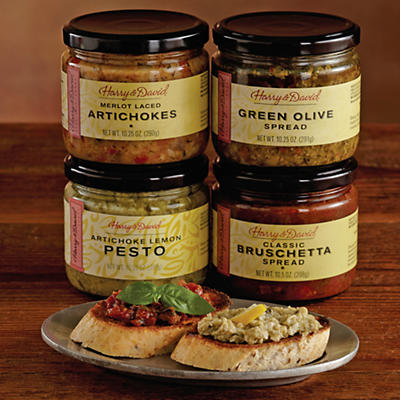 click on image to zoom
Click to see additional views
View our selection of greeting cards.
You can select and personalize a greeting card at checkout.
Pick Four Appetizer Spreads
---
---
---
PRODUCT DESCRIPTION
Versatile and adaptable, these gourmet spreads are the perfect thing to round out any snack or meal. Savory and delicious, they'll buff up any "okay" or "good" dish into something great and extraordinary. And with a wide range of flavors, there's bound to be something for everyone.

Also in stores.
Your choice—click the SELECT ITEMS button above to choose any four flavors from the selection box:
Spreads (10.25 oz each)
Bruschetta (10.5 oz)
Items shown subject to availability
Standard Shipping and Processing: $9.99
For additional Shipping and Processing details click here.
Comments about Harry & David Pick Four Appetizer Spreads:
We like to have guests over so the gift of appetizer spreads was perfect for us. The presentation is wonderful! The jars and amount are perfect and so is the variety of spreads. I loved the Fire Roasted Bruschette and the Artichoke Lemon Pesto. My husband chose the Black Olive Spread as his favorite. The point is there is something for everyone. I would recommend using crackers vs chips with the dips because the dips are thick. I'm actually going to try mixing a bit with some sour cream for some better chip dipping. The shelf life- one year! Loved this gift!
Comment on this review
Addicting
Delicious On Pasta
Enhance Everyday Dishes
Enhances Everyday Dishes
Good variety
Great Dip
Great presentation
Great Sandwich Condiment
Perfect Hot Or Cold
Versatile
Any occasion
As A Condiment
Gift Not They're Mine
Lem Pesto W Shrimp Pasta
Merlot Artichoke W Pasta
On Pasta With Seafood
On Sandwiches
Comments about Harry & David Pick Four Appetizer Spreads:
I buy a 4 pack almost every other month. The Lemon Pesto my family loves with Shrimp & Pasta. I add a little extra lemon and a little Garlic and it's EXTRODINARY! The Bruschetta I mix with chunks of fresh mozzarella and serve it on slices of toasted baguette and drizzle with a store bought Balsamic reduction. The Artichokes in Merlot are my personal favorite. They're REALLY versatile, I use on pasta, as a sandwich spread, I eat them as a snack with multi-grain chips (they're great with chips with seeds i.e. flax or sesame or both) but my absolute favorite way to eat the Artichokes with Merlot is to make a delicious, healthy light dinner with Hummus,(either store bought or home made) a few roasted red peppers, warm pita and a spoonful of the Artichokes in Merlot on top of the Hummus. It turns something good into something gourmet. I have a hard time eating hummus any other way now. I honestly can't say enough about the "Appetizer Spreads." I personally think Harry & David should call them something else like maybe a recipe enhancer, or something but they're much more than Appetizer Spreads.
Service and delivery comments:
Everything always arrives promptly. I've never had a single problem to have to use Customer Service.
Comment on this review