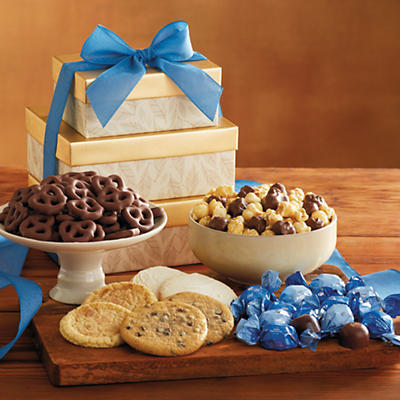 click on image to zoom
Click to see additional views
View our selection of greeting cards.
You can select and personalize a greeting card at checkout.
Sugar-Free Gift Tower
---
Available to Ship October 13
---
PRODUCT DESCRIPTION
All of our favorite sweet treats are here in the Sugar-Free Gift Tower. We've taken a variety of popular gourmet cookies and candies and created delectable sugar-free versions with the same incredible taste. Opening this gift tower means that cookies, Moose Munch® Popcorn, truffles, and chocolate pretzels are back on the dessert menu. It's the perfect solution for those who need to avoid sugar, but not great flavor.
Sugar-free milk chocolate Moose Munch® Gourmet Popcorn (10 oz)
Sugar-free chocolate pretzels (10 oz)
2 sugar-free snickerdoodle cookies (1 oz each)
2 sugar-free frosted vanilla cookies (1.3 oz each)
2 sugar-free chocolate chip cookies (1 oz each)
6 sugar-free milk chocolate truffles (0.4 oz each)
6 sugar-free dark chocolate truffles (0.4 oz each)
Net Weight: 2 lb
Standard Shipping and Processing: $11.99
For additional Shipping and Processing details click here.
Comments about Harry & David Sugar-Free Gift Tower:
I ordered the Sugar-free basket for myself for Christmas as I knew that I'd be tempted by all the sugar-filled goodies around me! Everything was wonderful, the best I've found to date. I too wish that we could purchase each item individually, although the variety is great also. Plan on purchasing more in the future......definitely appreciate sales!!
Comment on this review
Comments about Harry & David Sugar-Free Gift Tower:
I ordered these to have for Christmas and they are wonderful! The best sugar free items I have found so far. I only wish you could purchase individual boxes of each item instead of having to order the whole variety pack.
Comment on this review
Comments about Harry & David Sugar-Free Gift Tower:
For the second year in a row I have sent the fruit of the month club to my family members. Some have been in the same state I live in and some not. Everyone has always raved about how beautiful and delicious the fruit is.
They also comment on how nicely it is packed and how they love opening the box. This year I sent the club to my father who lives with me. Now that I see what everyone else is receiving, I understand their enthusiasm. My father looks forward to receiving a box with the beautiful fruit in it every month. Last year my sister called and told me that UPS had put the box at the wrong door and they did not see it right away. When they opened it the fruit had already gone bad. I called Harry and David, and they sent my sister a new box of fruit. Who does that? Harry and David does! My sister was so happy that she got a replacement box of fruit. So, Harry & David, Hats off to you. Great quality and outstanding customer service.
Comment on this review
Good value
Good variety
Great presentation
Quality brand name food
Recipient loved it
Birthday Gift
Congratulations
Thank you/Appreciation Gift
Comments about Harry & David Sugar-Free Gift Tower:
Great selection of treats that taste amazing. Bought for grandmother and everyone else got a bite and couldn't believe it was sugar free. Will definatly continue to buy Harry & David an amazing brand. Will look at this as a gift option again soon.
Service and delivery comments:
Unfortunately there were no gummy bears as listed, but replaced with chocolate truffles. Delivery was great including holding off a day to ensure delivery on birthday.
Comment on this review
Comments about Harry & David Sugar-Free Gift Tower:
Purchased this item for Mothers Day for my mother. She was thrilled to receive the sugar-free tower. But that was later replaced by misery from abdominal cramping and diarrhea. She was completely unaware of the side effects from the Maltitol used to sweeten these treats. Although there were warnings of the possible laxative effect on the labels, it was far too late by the time she read them. I read the positive reviews and neither they nor the product description made any mention of it which us why I am submitting this review. It was my mistake for assuming that Splenda, or another safe sweetener, was used but again no warning in the description. Very disappointed and hope this review saves you or your recipient from the same possible agony. For the record, Maltitol is safe in small amounts but most people have to make that mistake once before they learn that lesson for life. Perhaps a warning BEFORE the order is placed would help.
Comment on this review