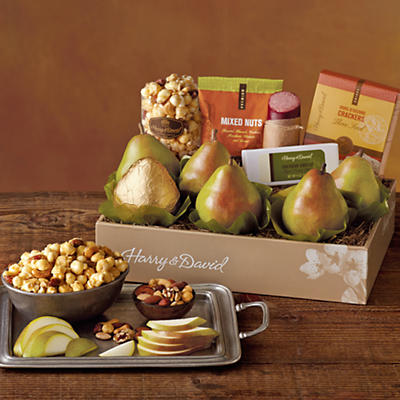 click on image to zoom
Click to see additional views
View our selection of greeting cards.
You can select and personalize a greeting card at checkout.
3-Month Favorites Club® Collection (Begins September)
PRODUCT DESCRIPTION
It's three months of our most awesome gifts. Harry and David always used to say, "Give folks what they want." So here you go, a club dedicated to our tried and true customer favorites. Each month you'll get a new favorite gift. In September you'll receive Harry's Gift Box. It's a whole box full of our favorite snacks. And in October, you'll get to enjoy a whole tin of our famous Moose Munch® Popcorn. We make that right here in our candy kitchen and it's really yummy. Then in November, you'll get a whole box of our sweet and juicy Southern Oregon grown Royal Riviera® Pears. Send this club to anyone who would love to receive three months of awesome treats.
SEP: Harry's Gift Box (4 lb 2 oz)
OCT: Moose Munch® Gourmet Popcorn Tin (2 lb 8 oz)
NOV: Royal Riviera® Pears (approx. 9 pears, 5 lb)
For additional Shipping and Processing details click here.