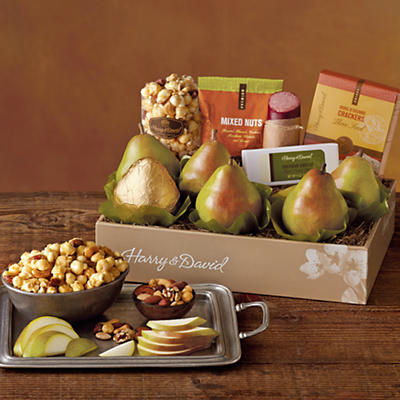 click on image to zoom
Click to see additional views
View our selection of greeting cards.
You can select and personalize a greeting card at checkout.
12-Month Favorites Club® Collection (Begins September)
Save
32%
off individual prices
PRODUCT DESCRIPTION
It's a whole year of our most awesome gifts. Harry and David always used to say, "Give folks what they want." So here you go, a club dedicated to our tried and true customer favorites. Each month you'll get a new favorite gift. Like our Signature Holiday Tower of Treats® Gift just in time for the holidays. It has some of our favorite treats inside. And our Signature Chocolate Truffles in February. We make those with our secret blend of premium gourmet chocolate. Send this club to anyone who would love to receive a whole year of awesome treats.
SEP: Harry's Gift Box (4 lb 2 oz)
OCT: Moose Munch® Gourmet Popcorn Tin (2 lb 8 oz)
NOV: Royal Riviera® Pears (approx. 9 pears, 5 lb)
DEC: Signature Holiday Tower of Treats® Gift (3 lb 8 oz)
JAN: Deluxe Triple Treat® Fruit (approx. 6 pears, approx. 6 apples, and approx. 6 navel oranges, 8 lb 8 oz)
FEB: Signature Chocolate Truffles (1 lb)
MAR: Signature Gift Basket (3 lb 11 oz)
APR: Signature Tower of Treats® Gift (3 lb 7 oz)
MAY: Royal Verano Pears (approx. 7-8 pears, 4 lb)
Jun: Classic Signature Cookie Gift Basket (1 lb 11 oz)
JUL: Deluxe Summer Triple Treat™ Fruit (approx. 6 peaches, approx. 6 nectarines, and approx. 6 plums, 6 lb 2 oz)
AUG: Oregold® Peaches (approx. 9 peaches, 4 lb)
For additional Shipping and Processing details click here.