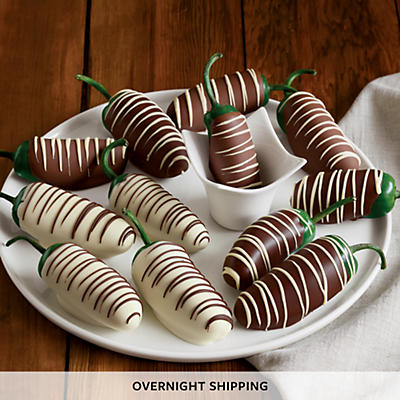 click on image to zoom
Click to see additional views
Chocolate-Covered Jalapeños
---
---
Available to Ship February 23
---
Please note:
This item ships overnight for $11.99 using cold packs to ensure it arrives in perfect condition. Express orders placed at the end of the week will ship on Monday of the following week. Not eligible for shipping discounts or promotions.
PRODUCT DESCRIPTION
Blending heat with sweetness, these hand-dipped chocolate-covered jalapeños are a delicious and daring combination. Each pepper is dipped in pure Belgian chocolate and decorated with contrasting chocolate stringing. The jalapeños are harvested and quickly shipped to the chocolatiers to ensure maximum freshness, and they actually retain a crisp crunch under the layers of chocolate. For those who enjoy spicy food, these chocolate-covered hot peppers are a crisp, surprisingly juicy specialty treat.
9-12 chocolate-covered jalapeños (1 lb 2 oz):
3-4 white chocolate-covered decorated with dark stringing
3-4 milk chocolate-covered decorated with white stringing
3-4 dark chocolate-covered decorated with white stringing
Net Weight: 15 oz
Standard Shipping and Processing: $11.99
For additional Shipping and Processing details click here.
Comments about Harry & David Chocolate-Covered Jalapeños:
Not able to eat... Too Large
Comment on this review