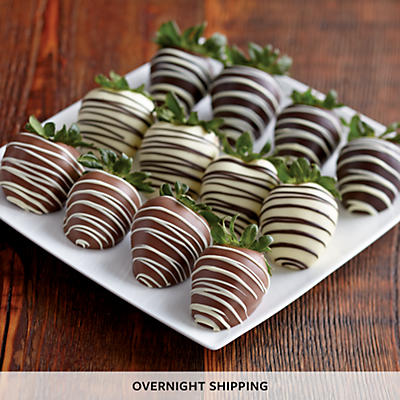 click on image to zoom
Click to see additional views
Triple-Dipped Chocolate-Covered Strawberry Medley
---
Available to Ship in February
---
---
Please note:
This item ships overnight for $11.99 using cold packs to ensure it arrives in perfect condition. Express orders placed at the end of the week will ship on Monday of the following week. Not eligible for shipping discounts or promotions.
PRODUCT DESCRIPTION
We're proud to offer a treat unparalleled in quality and decadence: chocolate-covered strawberries that have been hand-dipped three times in premium Belgian chocolate. This chocolate covered fruit gift is created by artisan chocolatiers who carefully dip each strawberry and allow the chocolate to set before dipping the berry again. This process results in a rich, 100 percent Belgian chocolate coating unlike any other. Includes one dozen berries dipped in milk chocolate, dark chocolate, or white chocolate and drizzled with Belgian chocolate stringing.
12 triple-dipped chocolate-covered strawberries (1 lb 7 oz):
4 dark chocolate-covered decorated with white stringing
4 milk chocolate-covered decorated with white stringing
4 white chocolate-covered decorated with dark stringing
Net Weight: 1 lb 7 oz
Standard Shipping and Processing: $11.99
For additional Shipping and Processing details click here.
Good value
Good variety
Great presentation
Quality brand name food
Recipient loved it
Comments about Harry & David Triple-Dipped Chocolate-Covered Strawberry Medley:
Lovely gift at Christmas time with many guests in the hosts!
Comment on this review