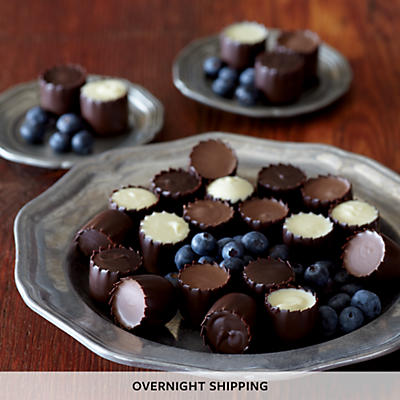 click on image to zoom
Click to see additional views
Chocolate-Covered Blueberry Cups - Two Dozen
---
---
---
Please note:
This item ships overnight for $11.99 using cold packs to ensure it arrives in perfect condition. Express orders placed at the end of the week will ship on Monday of the following week. Not eligible for shipping discounts or promotions.
PRODUCT DESCRIPTION
A sweet treat year-round. These chocolate-covered blueberries are expertly crafted using plump berries freshly picked from the bush and only pure Belgian chocolate. Each blueberry is placed by hand in a Belgian chocolate cup and then covered with more silky chocolate. Includes eight covered in milk chocolate, eight in dark, and eight in white.
24 chocolate-covered blueberries (11 oz):
8 dark chocolate-covered
8 milk chocolate-covered
8 white chocolate-covered
Net Weight: 11 oz
Standard Shipping and Processing: $11.99
For additional Shipping and Processing details click here.