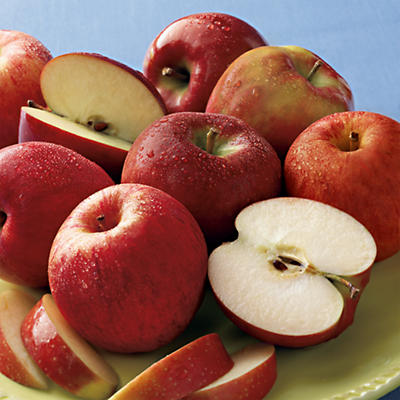 click on image to zoom
Click to see additional views
View our selection of greeting cards.
You can select and personalize a greeting card at checkout.
Apple Sampler
Available to Ship October 1
PRODUCT DESCRIPTION
An apple a day keeps the doctor away. After all, apples are nature's toothpaste. Not to mention they are really tasty. With so many kinds to choose from, we had a hard time deciding which ones to put in our fruit lineup. So we decided to let mother nature decide instead. Different kinds of apples don't ripen at the same time. We find the ones that are at their peak. That way, we know you're getting the best apples of the season. That's all we care about. We'll leave the rest to your doctor.
Depending on availability, apple selection will include approx. 11 apples in 2-3 of the following varieties:
Gala
Honeycrisp
Braeburn
Jonagold
Empire
Net Weight: 4 lb 9 oz
Standard Shipping and Processing: $8.95
For additional Shipping and Processing details click here.