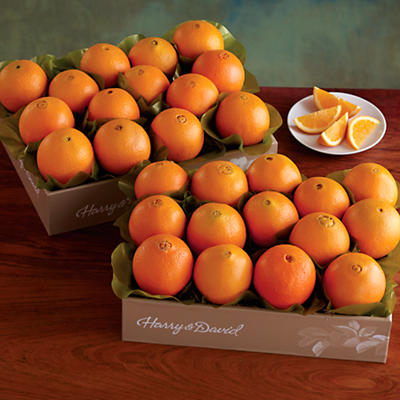 click on image to zoom
Click to see additional views
Navel Oranges - Two Trays
---
Available to Ship November 17
---
---
PRODUCT DESCRIPTION
We offer two trays of navel oranges for the citrus enthusiasts who can't get enough of this sun-ripened and delicious fruit. Unlike most navel oranges, you'll find the navels in this gourmet fruit delivery are extra plump and will delight you with a thinner skin that's easier to peel. Seedless and full of bright and sunny flavor, premium navel oranges are a great snacking option, but they also pair famously with nuts, olives, and cheese.
For CA, NV, and HI customers, this item will be available to ship December 1. Not available to customers in AZ.
Two trays, each containing approx. 14 navel oranges (16 lb)
Net Weight: 16 lb
Standard Shipping and Processing: $10.95
For additional Shipping and Processing details click here.
You can purchase this gift with your PayPal® account during checkout.