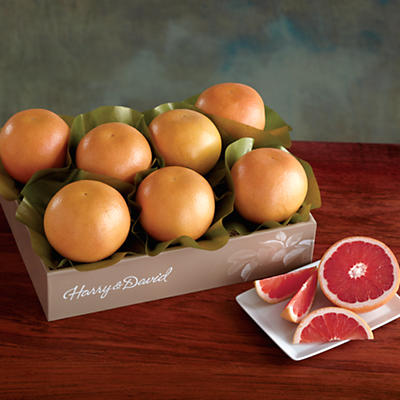 click on image to zoom
Click to see additional views
Red Grapefruit - One Tray
---
Available to Ship January 8, 2015
---
Available to Ship January 15, 2015
---
PRODUCT DESCRIPTION
Red grapefruit earned their distinguished name because of the beautiful shade of red they reveal when sliced open. Each grapefruit in this gourmet citrus selection has been picked at the height of its growing season, yielding the perfect blend of tart and sweet flavors. While grapefruit is a fresh and wholesome breakfast treat, we also recommend trying it tossed in a savory salad or juiced to use in vinaigrette. This citrus fruit delivery also makes a great gift.
For CA, NV, and HI customers, this item will be available to ship December 1. Not available to customers in AZ.
Approx. 7 red grapefruit (8 lb)
Net Weight: 8 lb
Standard Shipping and Processing: $8.95
For additional Shipping and Processing details click here.
Comments about Harry & David Red Grapefruit - One Tray:
These are the best grapefruit ever! I had recently bought some at the grocery store. They were small and soft and had little taste to them. I decided to place an order with Cushman's and the grapefruit were so good ... large, fresh, and wonderful to eat. They really were worth every penny!
Comment on this review