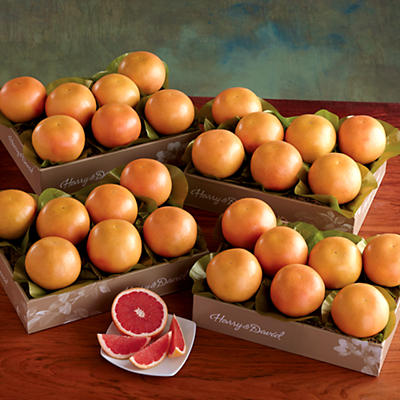 click on image to zoom
Click to see additional views
Red Grapefruit - Four Trays
---
Order Now FOR

DECEMBER

DELIVERY
---
Available to Ship December 3
---
PRODUCT DESCRIPTION
Grapefruit aficionados rave about this delicious citrus, which is why we offer four trays of red grapefruit. This gourmet fruit delivery has enough to share with friends and family, and still have days of gourmet citrus to enjoy. We wait patiently until their skin is a sunny yellow, often blushing with a soft pink hue. Harvesting at the peak of their growing season results in a delightfully tart and slightly sweet flesh. While this premium grapefruit is a perfect and wholesome choice for breakfast, we also suggest trying it tossed into a salad, or mixed into a vinaigrette dressing.
For CA, NV, and HI customers, this item will be available to ship December 1. Not available to customers in AZ.
Four trays containing approx. 30 red grapefruit (32 lb)
Net Weight: 32 lb
Standard Shipping and Processing: $12.95
For additional Shipping and Processing details click here.
Great presentation
Quality brand name food
Recipient loved it
Any occasion
Birthday Gift
Christmas Gift
Comments about Harry & David Red Grapefruit - Four Trays:
I have been ordering large family size boxes of Cushman's Ruby Red grapefruit for years and we love them! They are always delicious and juicy, the perfect way to start our mornings or to enjoy anytime. I once got a box from Texas but it wasn't nearly as good as Cushmans. Thanks for giving us the best grapefruit always!
Comment on this review
Comments about Harry & David Red Grapefruit - Four Trays:
I got this as a gift from my favorite uncle. They are delicious. Thank you.
Comment on this review
Comments about Harry & David Red Grapefruit - Four Trays:
No many people put as much effort into finding the very best Grapefruit in the world as I do. One of the best parts of the New England winters for me is enjoying my favorite fruit, Grapefruit ! Only one place has met my discerning taste buds over the past couple years and It's Cushman's Crown Ruby Reds. They're simply the best of the best !! My 36 lb. order from the first picking this fall season and the start of the 09/10 season was right on target with great taste and freshness that you can't find anywhere else. I order with confidence knowing that if I'm not 100% satisfied on every order, which is almost weekly, that Cushman's will send me a replacement order.... no questions asked, Ever !

Thanks,
From the state of CT.
Comment on this review