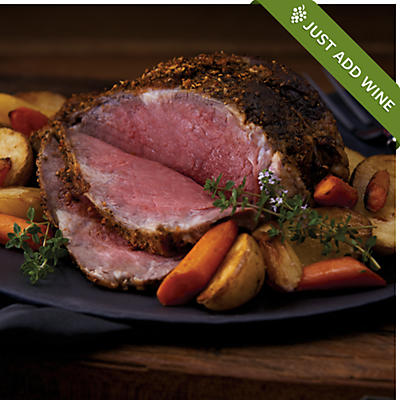 click on image to zoom
Click to see additional views
Available to Ship October 7
Available to Ship October 16
Prime Rib (4 lb)
Net Weight: 4 lb
Standard Shipping and Processing: $14.95
For additional Shipping and Processing details click here.
You can purchase this gift with your PayPal® account during checkout.
Easy To Cook
Gourmet Taste
Recipient loved it
Any occasion
Christmas Gift
Comments about Harry & David Prime Rib:
I followed the cooking directions found under the Q&A on the H&D product website. All I added was some wine. Prime Rib had looked good, had great taste, and was moist and juicy. Did not need to add any other seasonings. Most delicious. Very easy to do & cook, yet made our meal gourmet! Highly recommend.
Comment on this review
Do you have questions about this product?
get answers from real customers and in-house experts with AnswerBox.
7 Questions | 9 Answers
Displaying questions 1-7
Q:

what is the cooking instruction for this Prime Rib?

Asked on 12/7/2013 by Allen from Peabody, MA

2 answers

A:

I followed the cooking directions posted here and the meat came out perfect!

Answered on 12/23/2013 by Beaumont Becca Travels from Beaumont Texas

A:

Allen, thank you for asking! Our scrumptious Harry & David Prim Rib is easy to cook. Once thawed, remove prime rib from the bag and save natural au jus to heat prior to serving roast. Place the Prime Rib in a pan and cover it loosely with foil. Heat in a conventional oven for 1¼ to 1½ hours at 350° for a rare finish (115° Internal temperature). Add 30 minutes for a medium doneness or 1 hour for well done. Remove the foil 15 minutes before removing from oven so prime rib can brown on the outisde.

Answered on 12/7/2013 by Customer Care from Medford, OR

Q:

Is it grass-fred beef?

Asked on 11/26/2013 by Mandy from Waco, texas

1 answer

A:

Mandy -- The cattle spend 80 percent of their lives on grass. They spend the last 120 days on a mix of grains, alphalfa, hay vitamins and minerals.

Answered on 11/27/2013 by Customer Care from Medford OR

Q:

$100 is an investment and a bit of a gamble. Are there still no reviews available for this product?

Asked on 11/21/2013 by Deb from Louisville, KY

1 answer

A:

Deb, at this time there have been no reviews left by customers for our Prime Rib. Please order with confidence, as we have the best guarantee in the business: You and those who receive your gifts must be delighted, or we'll make it right with either an appropriate replacement or refund. Always.

Answered on 11/22/2013 by Customer Care from Medford, OR

Q:

Since this is pre seasoned, do you think it may be too salty?

Asked on 11/11/2013 by anne from charlotte, nc

2 answers

A:

I cooked it as it came, per the Harry & David instructions. It came out tasty, moist and juicy. I did NOT add any other seasonings or salt. It was delicious and tasty. It was NOT too salty. The meat was just right.

The only thing I added was a little red wine to the baking dish as I cooked it, just to be sure it would be moist, but I really did not need to do this. Perfect as it is. I served it for my parents' anniversary dinner. They loved the meat and felt it was very gourmet!

Answered on 12/23/2013 by Beaumont Becca Travels from Beaumont Texas

A:

Anne, as individual taste vary, it would be hard to say what might be too salty for you. Please order with confidence, as we have the best guarantee in the business. You and those who receive your gifts must be delighted, or we'll make it right with either an appropriate replacement or refund. Always.

Answered on 11/12/2013 by Customer Care from Medford, OR

Q:

Is the 'Prime Rib' USDA Prime grade or is it USDA Choice grade?

Asked on 12/13/2012 by Anonymous

1 answer

A:

While in the past we previously used Choice grade cuts of meat for our Prime Rib we now use Select to ensure that our mouth watering Prime Rib is lean and delicious.

Answered on 12/15/2012 by Customer Care from Medford, OR

Q:

Is it raw? How long can I keep it in my fridge before I cook it on Christmas day?

Asked on 11/18/2012 by Susan from Las Vagas

1 answer

A:

Susan, this mouth-watering Prime Rib Ships frozen without gel packs. It arrives pre-cooked and pre-seasoned in a seasoning of salt, different varieties of peppers and caramel powder. Once thawed, it may be kept in the refrigerator until ready to use (about a week)

Answered on 11/20/2012 by Customer Care from Medford, OR

Q:

How many people does this Prime rib feed?

Asked on 10/25/2012 by Chrissy

1 answer

A:

That is a very good question Chrissy. Our Prime Rib serves 6-8 people, based on an 8-10 oz serving size

Answered on 10/26/2012 by Customer Care from Medford, OR
Displaying questions 1-7