SOLD OUT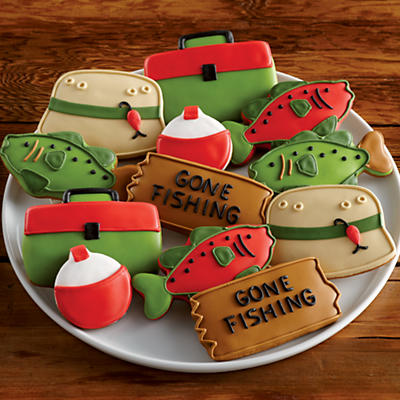 click on image to zoom
Click to see additional views
View our selection of greeting cards.
You can select and personalize a greeting card at checkout.
Fisherman's Decorated Cookies
PRODUCT DESCRIPTION
A dozen playfully decorated cookies for the inner angler in everyone. The honey vanilla cookies in our Fishing Trip Cookie Box are made with premium, fresh ingredients and without hydrogenated oils. They're also created entirely in the United States. Handcrafted by a team of artisan bakers, the all natural dough for these cookies is kneaded and cut by hand before being hand decorated with royal icing.
12 Decorated Fishing Cookies:
2 Red Fish (0.8 oz each)
2 Green Fish (0.8 oz each)
2 Fishing Hats (1.1 oz each)
2 Fishing Bobbers (0.5 oz each)
2 "Gone Fishing" (1 oz each)
2 Tackle Boxes (1.4 oz each)
Net Weight: 11 oz
Standard Shipping and Processing: $8.95
For additional Shipping and Processing details click here.