SOLD OUT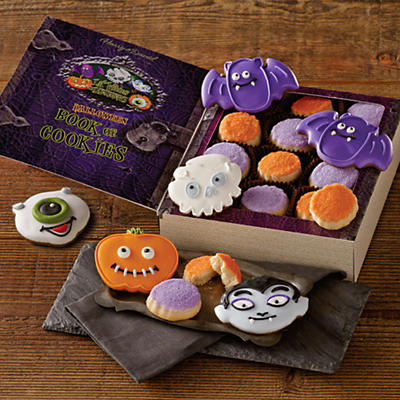 click on image to zoom
Click to see additional views
NEW

Halloween Book of Cookies
---
---
---
PRODUCT DESCRIPTION
Thrill someone special with this unique cookie book. The Halloween Book of Cookies is filled with a mixture of shortbread cookies crafted in our own bakery and cookies hand-decorated by one of the cleverest spooky cookie makers we could find. When it comes to Halloween cookie gifts, this is the most memorable you'll send this season.
18 Cookies:
12 vanilla shortbread cookies (0.8 oz each)
2 bat-decorated gingerbread cookies (0.9 oz each)
1 skull-decorated gingerbread cookie (0.8 oz)
1 Dracula-decorated gingerbread cookie (1.1 oz)
1 Jack-o'-Lantern-decorated gingerbread cookie (1 oz)
1 eye-decorated gingerbread cookie (0.9 oz)
Net Weight: 15 oz
Standard Shipping and Processing: $8.95
For additional Shipping and Processing details click here.
You can purchase this gift with your PayPal® account during checkout.
Comments about Harry & David Halloween Book of Cookies:
I received this as a gift. I've had these cookies before, so I know I will like them, especially the vanilla shortbread cookies. I don't care much for the gingerbread cookies, though, because of the gingerbread flavor. I wish they were just the vanilla flavor.

One problem this time. The wrapped gingerbread cookies were on top of the unwrapped shortbread cookies. Because it's warm out, the ink from the wrapped cookies, (the listing of ingredients on the back), melted onto the shortbread cookies. I ended up having to throw 4 cookies out. Please wrap all the cookies, or at least keep wrapped and unwrapped cookies separate.
Comment on this review