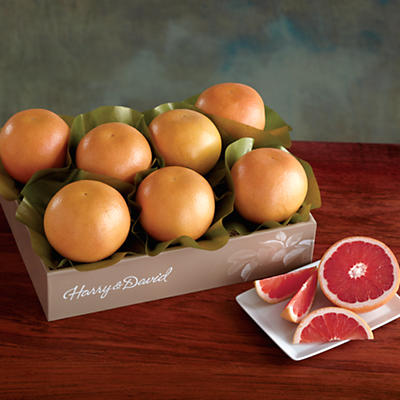 click on image to zoom
Click to see additional views
Red Grapefruit - One Tray
---
Available to Ship January 15, 2015
---
Available to Ship January 8, 2015
---
PRODUCT DESCRIPTION
Red grapefruit earned their distinguished name because of the beautiful shade of red they reveal when sliced open. Each grapefruit in this gourmet citrus selection has been picked at the height of its growing season, yielding the perfect blend of tart and sweet flavors. While grapefruit is a fresh and wholesome breakfast treat, we also recommend trying it tossed in a savory salad or juiced to use in vinaigrette. This citrus fruit delivery also makes a great gift.
Approx. 7 red grapefruit (8 lb)
Net Weight: 8 lb
Standard Shipping and Processing: $8.95
For additional Shipping and Processing details click here.
Good value
Great presentation
Juicy
Quality brand name food
Recipient loved it
Scrumpdiddlyumptious
Succulent
Sweet
Anti-depressant
Any occasion
Eating Preferably
Comments about Harry & David Red Grapefruit - One Tray:
Arriving promptly and nestled in a oh so cute box, these plump, not so little spheres of perfectly sweet, never-ending juicyness will have you wondering what kind of "fruit" the supermarket has been selling you all these years, because it certainly hasn't been selling you real grapefruit. Make sure you have napkins in stock and handy before you commence your fruit slaying. FYI: NO, you cannot save the seeds and plant a Harry and David Grapefruit tree in your backyard. They are not "true" seeds, meaning the fruit from the tree you plant will not be like the fruit you just ate. You have to graft to get a true Harry and David tree. This goes for most fruits. Yes, I went there.
Service and delivery comments:
Prompt and efficient. If it would have arrived damaged, there would be a shipping employee who smelled faintly of grapefruit when they got home. just kidding.
Comment on this review
Comments about Harry & David Red Grapefruit - One Tray:
These are the best grapefruit ever! I had recently bought some at the grocery store. They were small and soft and had little taste to them. I decided to place an order with Cushman's and the grapefruit were so good ... large, fresh, and wonderful to eat. They really were worth every penny!
Comment on this review