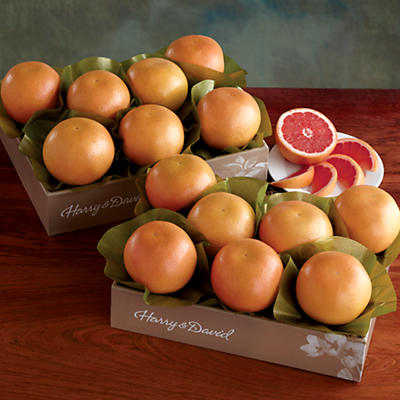 click on image to zoom
Click to see additional views
Red Grapefruit - Two Trays
---
---
---
PRODUCT DESCRIPTION
Get double the amount of delicious grapefruit with two trays of red grapefruit. They're picked at the peak of their season, just when the exterior is a sunny yellow and often with a soft pink blush. Cut one in half to reveal the juicy red fruit inside. With a tart and slightly sweet flavor, this premium grapefruit is a perfect breakfast choice, or as a gourmet fruit delivery gift to loved ones. We also recommend adding slices of grapefruit in savory salads or using the juice for a fruity vinaigrette dressing.
For CA, NV, and HI customers, this item will be available to ship December 1. Not available to customers in AZ.
Two trays containing approx. 15 red grapefruit (16 lb)
Net Weight: 16 lb
Standard Shipping and Processing: $10.95
For additional Shipping and Processing details click here.
Birthday Gift
Christmas Gift
Corporate Gift
Thank you/Appreciation Gift
Comments about Harry & David Red Grapefruit - Two Trays:
I didn't even like grapefruit as a kid but the only type available in upstate NY at that time was white. As I became older, ruby red became much more widely known and I absolutely love it now. Eagerly awaited this order from Cushmans. Received heavy delicious grapefruit, well-packed. Most people can eat half, but I like that fresh, healthy, juicy taste so much I eat a whole grapefruit every time. This time I ordered 2 boxes and the first evening, I plucked out 6 fruit, cut them in half, sectioned them, squeezed the juice from the rinds and when finished, had a huge soup bowl of grapefruit which did last me several days. Looking forward to making my version of my grandmother's fruit salad [famous in our family]. Just grapefruit and orange sections and chunk pineapple. Dee-lish-iss. PS - Grandma usually included sliced bananas, halved red grapes and maraschino cherries [for the kids].
Comment on this review
Comments about Harry & David Red Grapefruit - Two Trays:
My husband and I thoroughly enjoyed. we were surprised to find they had seeds when the description said no seeds.
Comment on this review