SOLD OUT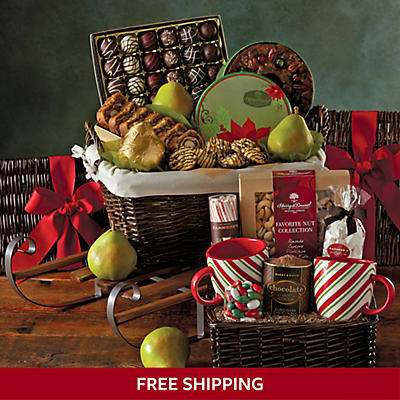 click on image to zoom
Click to see additional views
Enjoy FREE shipping on this gift when you enter code GIFT at checkout. See details
PRODUCT DESCRIPTION
The Sled of Holiday Treats is a fabulous gift brimming with a generous selection of gourmet food gifts. It's a decorative wooden sled holding a pair of hamper baskets brimming with gifts like our famous Royal Riviera® Pears, traditional fruitcake, truffles, and cinnamon swirl. The two stoneware mugs, decorated with festive stripes, and the sled centerpiece will be lasting reminders of this year's holiday cheer.
Approx. 6 Royal Riviera® Pears (2 lb 3 oz)
Traditional Fruitcake (2 lb)
Cinnamon Swirl (1 lb)
Mixed nuts gift tin [cashews, almonds, hazelnuts, pecans, walnuts] (8 oz)
Dark chocolate cocoa (7 oz)
Vanilla bean marshmallows (4 oz)
Peppermint candy stir sticks (5 oz)
6 coconut macaroon cookies (1 oz each)
Jordan Almonds (8 oz)
Signature truffles [coffee, cherry, raspberry, almond, all dark, double chocolate] (1 lb)
Wood and metal sled, 26.5 in L x 13 in W x 3.8 in H (67.3 cm x 33 cm x 9.6 cm)
2 Ceramic Mugs, 18 fl oz (532.3 ml) each
Net Weight: 9 lb 1 oz
For additional Shipping and Processing details click here.