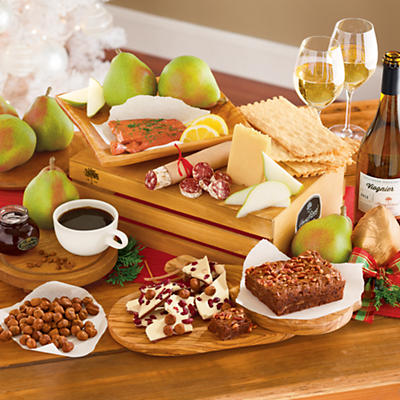 click on image to zoom
Click to see additional views
Available to Ship December 17
There are a lot of reasons to love living in the Pacific Northwest. We've got lots of trees, lots of rivers and lots of awesome local food and wine. We're actually getting really famous for our excellent wineries. For this Northwest Gift Basket Grand Deluxe with Wine, we traveled around the Pacific Northwest searching for the best artisan eateries, and they weren't hard to find. We didn't need to look far for our Viognier. It's made here in Southern Oregon. It's a rich, full bodied white wine that goes great with the yummy treats in this gift. To find those, all you have to do is ask a local where to grab the best chow, and you'll find yourself with a list a mile long. From our local favorites in the Rogue Valley to the big city bites up north in Portland and Seattle, there's no end to good eats. With help from our food-loving Oregonians, we've filled this basket with the best of the Pacific Northwest's artisan cuisine.
Click here for further details and restrictions relating to the purchase of wine, and a list of states to which Harry & David wine can be shipped. You must be 21 years of age or older to order, purchase or receive delivery of wine. Offer void where prohibited by law. Promotions, coupons and special offers do not apply to products containing wine. Harry and David, LLC, Medford, Oregon.
Approx. 8 Royal Riviera® Pears (3 lb 12 oz)
Lemon Dill Salmon (6 oz)
Sopressata Salami (4.5 oz)
Rogue Creamery® TouVelle® Cheese (4 oz)
Oregon Whole Roasted and Salted Hazelnuts (6 oz)
La Panzanella Crackers (5.5 oz)
Cranberry and Hazelnut Bark (8 oz)
Aloha from Oregon Marionberry Pepperjelly (5.5 oz)
Chocolate Caramel Brownies (1 lb)
Northwest Blend Whole Bean Coffee (12 oz)
Harry & David™ Viognier (750 ml)
Standard Shipping and Processing: $15.95
For additional Shipping and Processing details click here.
You can purchase this gift with your PayPal® account during checkout.