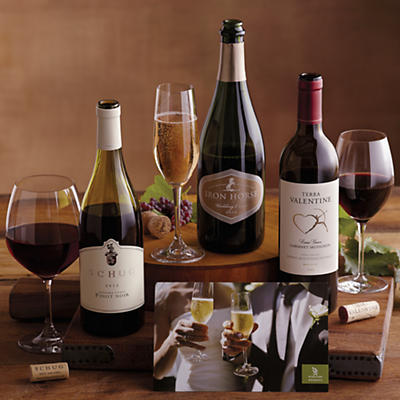 click on image to zoom
Click to see additional views
Wedding and Anniversary Wine Trio
---
Available to Ship October 7
---
Available to Ship October 14
---
PRODUCT DESCRIPTION
Help your happy couple celebrate their union with wine. The Wedding and Anniversary Wine Trio has three distinctive and delicious varietals that make marking those special anniversaries a whole lot of fun. For the first anniversary there's the Iron Horse Wedding Cuvee, a rich sparkling wine that's perfect to toast the first year together. After three years, the Au Bon Climat Santa Barbara Pinot Noir will be just right. Its balance of texture and bright fruity flavors pairs well with just about everything. And to cap things off, there's the Terra Valentine Spring Mountain District Cabernet Sauvignon. A blend of four wines, its rich cocoa and black currant flavors will be perfectly aged and ready to drink after five years. An elegant gift for any couple celebrating their love.
Please note: This wine is sold and shipped separately by Wine.com; Harry & David is the marketing agent. Click here for further details and restrictions, and a list of states to which this wine can be shipped. You must be 21 years of age or older to order, purchase or receive delivery of wine. Offer void where prohibited by law. Promotions, coupons and special offers do not apply to products containing wine. Gifts that include both food and wine will be sent in two separate packages.
2012 Terra Valentine Cabernet Sauvignon (750 ml)
2012 Schug Sonoma Coast Pinot Noir (750 ml)
2010 Iron Horse Wedding Cuvee (750 ml)
Standard Shipping and Processing: $17.95
For additional Shipping and Processing details click here.
You can purchase this gift with your PayPal® account during checkout.