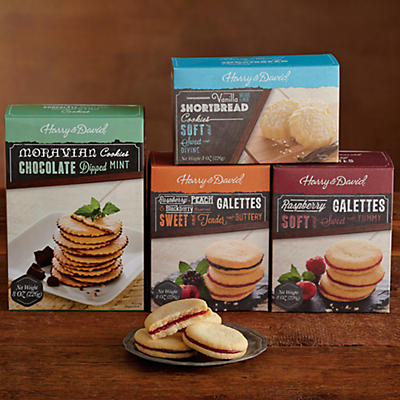 click on image to zoom
Click to see additional views
View our selection of greeting cards.
You can select and personalize a greeting card at checkout.
PRODUCT DESCRIPTION
Delight in four boxes of premium cookies carefully crafted in our Southern Oregon bakery. We offer a variety of delicious cookie gift options, ranging from perennial favorites like blackberry and raspberry galettes, to decadent chocolate macadamia nut shortbread cookies and classic snickerdoodles. Order a cookie delivery online and enjoy some of the best bakery delights.

Also in stores.
Your choice—click the SELECT ITEMS button above to choose any four flavors from the selection box:
Galettes (6.4-8 oz each)
Shortbread (8 oz each)
Tea cookies (10 oz each)
Items shown subject to availability
Standard Shipping and Processing: $9.99
For additional Shipping and Processing details click here.
Comments about Harry & David Pick Four Cookie Boxes:
Love, love, love the little gallete cookies. 20 years ago, my uncle sent a gift tower with these babies inside. I was about 8 years old and I savored each bite. I have always wondered where he got them, so when I saw these in the Harry and David catalog I was beside myself! I ordered some for my family to try and we were in heaven.
Comment on this review
Great presentation
Quality brand name food
Recipient loved it
Comments about Harry & David Pick Four Cookie Boxes:
I never write reviews but was inspired to write one after trying these cookies! Amazingly soft, buttery texture with intense and tangy filling! Absolutely delightful
Comment on this review
Comments about Harry & David Pick Four Cookie Boxes:
A good friend of 35 years sent me a gift basket for Christmas last year and these cookies were in there. I tried to save some for family coming over that day but couldn't they were so delish. To hide my over eating I tried to order more cookies that day but they were on back order for months.

This year I am ordering early and putting them away (I hope), and we are going to send a gift basket to my daughters nurses when she delivers her baby next month. These are the best cookies I have ever tasted!
Comment on this review
Comments about Harry & David Pick Four Cookie Boxes:
THE MOST DELICIOUS COOKIES EVER!

I BOUGHT THE 4 PACK OF ASSORTED COOKIES.

I WILL PURCHASE THEM AGAIN.

I HIGHLY RECOMMEND THESE YUMMY COOKIES!
Comment on this review
Citrus Cookies Buttery
Citrus Cookies Soft
Tangy Citrus Flavor
Terrific Citrus Flavor
Galettes Filling Awful
Galettes Too Sweet
Galettes Were Grainy
Not a good value
Any occasion
Gifts
Great With Coffee
Comments about Harry & David Pick Four Cookie Boxes:
We purchased the Tangy Citrus Shortbreads many times and loved them. This time, based on good reviews, we bought 6 boxes of the Citrus Shortbreads and 2 boxes of the Raspberry Galettes. The Galettes were awful, the cookie was "grainy" and the raspberry filling was super sweet to the point that it overtook the taste! The Galettes tasted like super-sweet jam to the adults. Only a child in the family liked them, saying they tasted like a Jelly Sandwich. Unfortunately, also, we received 3 boxes of the Citrus Shortbread that were older than the others. They had an aftertaste. NOTE: One thing that I must add is that it's the first time we ever complained, because the quality has always been great. The Customer Service Rep was wonderful and made it all good for us. We will come back for our favorite foods and Citrus Shortbreads. We will NOT order the Galettes again.
Comment on this review
Comments about Harry & David Pick Four Cookie Boxes:
I have purchased these cookies many times over the years and loved them. Lately the last couple times I have been disappointed. Something has definitely changed. They are not as soft and buttery and there is less filling. Also the jam inside just seems sweet and lacking in the tart fruit flavor it used to have. Still gave it 3 stars, pretty good, just not amazing like they used to be.
Comment on this review
Different
Not a good value
Not Enough Filling
Not Soft
Comments about Harry & David Pick Four Cookie Boxes:
My (now deceased) grandparents would send our family a basket from Harry and David every year for Christmas. The raspberry galettes were always my sister and I's favorite, after the pears, of course. We would literally get in fist fights over these cookies, they were so good. Seriously, they WERE that good.

So feeling nostalgic and really craving the best cookie I've ever had, I ordered four boxes of these things along with some pears.

I AM SO DISAPPOINTED! These cookies are nowhere near as good as they were, and I definitely wouldn't beat anyone up over these things. They aren't soft anymore, and there's very little jam. I read other reviews saying this before I bought them, but I thought surely these people must just be impossible to please. I am so sorry I doubted you, other reviewers.

I will never spend the money on these cookies again, unless I was assured the old recipe was restored. As of now they are extremely overpriced and mediocre.

I will cry into the boxes of these overpriced cookies of deceit and pray one day they will once again be as glorious as they were in the days of yore.
Comment on this review
Comments about Harry & David Pick Four Cookie Boxes:
I felt the need to post a review about these. I USED TO LOVE these cookies. But about 2 years ago, they changed how they were made and they are now TERRIBLE.

They used to be soft and buttery (as another reviewer says) with a good amount of fruit filling. But now they are hard -- they actually taste stale. And there is hardly any fruit in them -- a very small dollop about the size of a nickel.

I thought the first batch I got were an anomaly. But they were the same again this year at the holidays.

Such a disappointment. I have actually called H&D to leave feedback with them. I DO NOT recommend these cookies anymore. So sad. :-(
Comment on this review