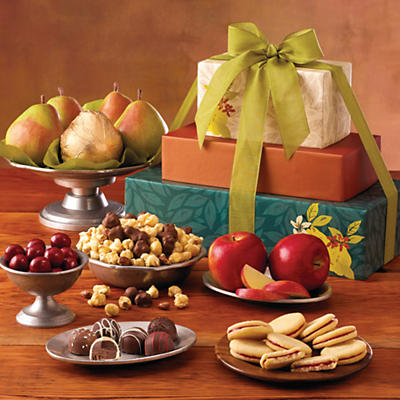 click on image to zoom
Click to see additional views
View our selection of greeting cards.
You can select and personalize a greeting card at checkout.
3-Month Presidential Tower Fruit-of-the-Month Club® Collection (Begins March)
---
---
---
PRODUCT DESCRIPTION
There is a plentiful assortment of gourmet fruits in this monthly Club. We've added a few unique fruits to this Club, making it perfect for exotic fruit lovers. This Club starts with the David's Gift Tower in place of the first month's fruit. You couldn't always get fresh fruit year-round—especially if you didn't live where it grew. That's why Harry and David found a way to ship the finest fruit all over the country with the Fruit-of-the-Month Club® Collections. A new favorite fruit handpicked and delivered fresh each month makes the perfect gift for anyone.
MAR: David's Gift Tower (4 lb 11 oz)
APR: Pineapples (2 pineapples, 6 lb)
MAY: Papayas and limes (approx. 4 papayas and approx. 4 limes, 4 lb)
For additional Shipping and Processing details click here.