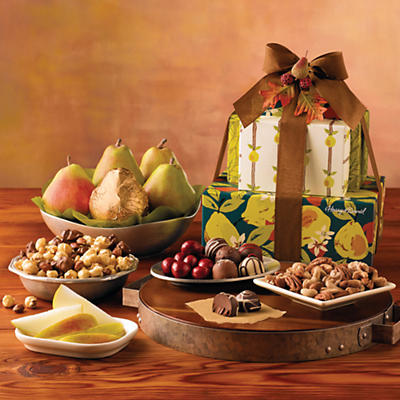 click on image to zoom
Click to see additional views
View our selection of greeting cards.
You can select and personalize a greeting card at checkout.
9-Month Signature Classic Tower Fruit-of-the-Month Club® Collection (Begins February)
---
---
---
Save
21%
off individual prices
PRODUCT DESCRIPTION
The Signature Classic Collection is the original Fruit-of-the-Month Club® Collection lineup. It's the perfect fruit gift for families or offices. This monthly Club starts with the Signature Tower of Treats® Gift in place of the first month's fruit. You couldn't always get fresh fruit year-round—especially if you didn't live where it grew. That's why Harry and David found a way to ship the finest fruit all over the country with the Fruit-of-the-Month Club® Collections. A new favorite fruit handpicked and delivered fresh each month makes the perfect gift for anyone.
FEB: Signature Tower of Treats® Gift (3 lb 8 oz)
MAR: Grapefruit (approx. 7 grapefruit, 6 lb 8 oz)
APR: Pineapples (2 pineapples, 6 lb)
MAY: Strawberries (18 strawberries, 2 lb)
JUN: Honey mangoes (approx. 5-6 mangoes, 3 lb)
JUL: Cherry-Oh!® Cherries (approx. 70-110 cherries, 2 lb)
AUG: Oregold® Peaches (approx. 9 peaches, 4 lb)
SEP: Seasonal apples (approx. 10 apples, 4 lb 8 oz)
OCT: Royal Riviera® Pears (approx. 9 pears, 5 lb)
For additional Shipping and Processing details click here.