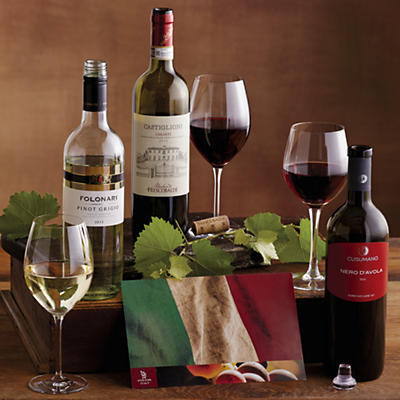 click on image to zoom
Click to see additional views
PRODUCT DESCRIPTION
From the far north to the southern island of Sicily, the wine-growing regions of Italy have long been some of the most diverse in Europe. Take a tour through beautiful Italia as you sample varieties that have become hallmarks of Italian wine. This trio includes a fruity Pinot Grigio from Folonari of Veneto, a smooth and berry-laden Chianti from Frescobaldi Castiglioni in Tuscany, and Cusumano's spicy Nero d'Avola from Sicily. Carefully curated and estate grown, these wine selections have received high ratings and critical acclaim for their quality and ability to be paired. Give a taste of the exotic and enjoy the delicacy of the sweet Mediterranean.
Please note: This wine is sold and shipped separately by Wine.com; Harry & David is the marketing agent. Click here for further details and restrictions, and a list of states to which this wine can be shipped. You must be 21 years of age or older to order, purchase or receive delivery of wine. Offer void where prohibited by law. Promotions, coupons and special offers do not apply to products containing wine. Gifts that include both food and wine will be sent in two separate packages.
2011 Frescobaldi Castiglioni Chianti (750 ml)
2012 Cusumano Nero d'Avola (750 ml)
2013 Folonari Pinot Grigio (750 ml)
Standard Shipping and Processing: $17.95
For additional Shipping and Processing details click here.