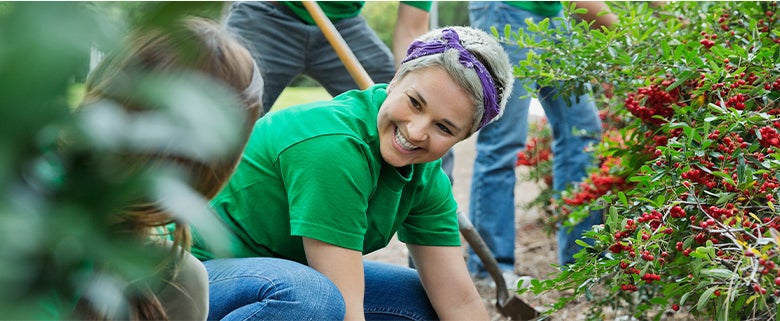 Giving Back: The Benefits of Volunteering
With the holiday season upon us, now's the perfect time to start thinking about how you can give back to your loved ones and community by volunteering.
Why Get Involved?
There are plenty of reasons to help others that go beyond giving us a sense of purpose and appreciation for what we have:
It's true! According to the Mayo Clinic's "6 Health Benefits of Volunteering", learning to appreciate all you're doing for the community not only reduces stress; it teaches you healthy ways to manage your time and priorities. Through donating your time to help others you can develop a new sense of appreciation for yourself.
Confidence helps with so much in everyday life. But it's also a skill rooted in kindness. Having the courage to help others through volunteering is a great way to increase confidence at work and in your social life. When you volunteer, you learn to be confident for those who can't be.
Develop New Relationships
One of the best ways to make new friends and strengthen existing relationships is to participate in a shared activity together. Volunteering is a great way to meet new people who share common interests. Dedicating your time also helps you expand your network.
Volunteering by the Numbers
So who are the people most likely to volunteer, and when are they out there helping the most? Volunteer Hub gathered some interesting stats. Here are just a few below:
https://www.volunteerhub.com/blog/25-volunteer-statistics/
People between the ages of 35 and 54 are the most likely to volunteer their time
Women currently volunteer more than men (by about 6% more)
Volunteers, on average, spend 50 hours per year donating their time
There are more that 1.8 million active nonprofits in the U.S. alone
34% of all charitable giving is done in the last 3 months of the year;
18% of total giving is done in December alone
Getting Started
So how do you find the best volunteer opportunity for you? A simple Google search can help you find a local nonprofit in your area. But first it's a good idea to think about what skills you can offer or what you're most passionate about. That will naturally lead you to your perfect volunteering match. And if you still need some help, we've compiled a list of the top volunteering sites below.