Roberta is a copywriter at Harry & David. Here, she shares her thoughts on holiday shopping, and why she polishes off her gift list at the Harry & David website.
Believe it or not, I do my Christmas shopping year-round. I know that's not typical, but I prefer to spread my spending across the entire year. And it helps me to avoid the stress and frustration of last minute shopping.
Here's how it works. Whenever I come across an item that reminds me of someone on my list, I buy it. By the time November rolls around, my closet space is pretty well stocked with holiday gifts. That's when I direct my attention to the people I want to send food gifts to. Even before I worked here, I turned to Harry & David as my one-stop-shop for gourmet food gifts.
Recently I attended a sneak peek tasting that paired our new Harry & David wines with our new harvest and dessert flavored chocolate truffles (I know, tough job, huh). I learned that Oregon wines totally rock and that our truffles belong in the realm of legendary. It's terrific that some brilliant mind here decided to develop our own wine collection.
So, I'm loving the new gifts with wine. Adding a bottle of wine to an expertly packed basket of gourmet foods makes a gift more special and adds a sense of celebration. The new wine gift baskets are destined to become bestsellers.
Chocolate fiends will be awed by the new chocolate and wine gifts. The decadent Signature Chocolate Truffles can now be paired with a delicious dessert wine.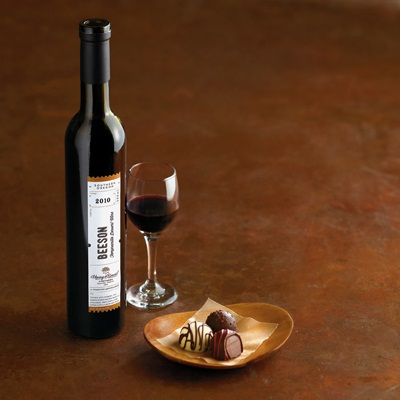 Besides the new wines and truffles, we've added more holiday gifts this season. The new Christmas shopping page makes it easier to find holiday gifts by category. Thanks, web team. And thanks to all my coworkers for creating the Harry & David difference. Yum.