We get so excited around here when it's time to harvest our Royal Riviera® Pears, it's hard to focus on anything else. Unless you work in the fruit acquisition group, of course. For them, it's all about apples this time of year.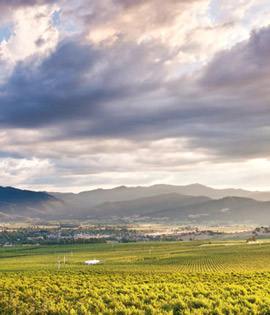 Starting Monday, September 10, a group of Harry & David Fruitees (like Foodies, only with fruit) are flying to Wenatchee, Washington, to begin a four-day, 12-orchard apple harvest road trip. They'll drive back down, stopping in Saleh, Yakima, Wapato, Pasco and Hood River, Oregon. This is a trip the Fruitees do every year. Even though Harry and David works with the same growers each year, we like to see the pickings for ourselves and test the fruit. We want to make sure that all the fruit in our gift baskets, gift towers and gift boxes meets our high standards. At each orchard we check the fruit for size, color, pressure and brix. That last one is a fancy term for sugar content. The higher the sugar content, the sweeter the fruit. I can't give away any of our secrets, but let's just say, for example, the sugar content of a peach you might find in the supermarket is an 8 or 9. Ours would be an 11. No wonder our fruit tastes so good.
So even though it might be Royal Riviera® Pear harvest here in Medford, it's always fruit season somewhere for this gang. Next up, the citrus groves in Florida. Thanks, guys; the Triple Treat Collection is one of my favorite gifts.