We recently sent Brenda of A Farmgirl's Dabbles our Easter Gift Basket. She used some of the goodies inside to create a recipe for Chocolate Chip Angel Food Cupcakes with Vanilla Cream.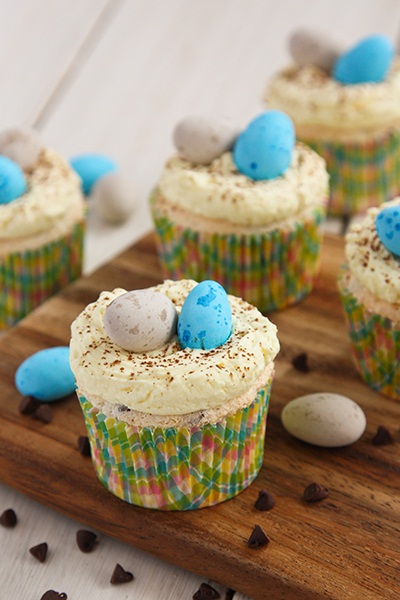 I've always had a special place in my heart for Harry and & David®'s gourmet gifts, and the fondness only grew stronger after I had the opportunity to visit them in southern Oregon a couple years ago. I've enjoyed a wide variety of their items over the years, but it wasn't until this spring that I had the chance to experience any of their Easter collection. Can you just imagine how happy this beautiful Easter Gift Basket Classic made my family?!
No Easter is complete without chocolate, and this basket from Harry & David contains a lovely assortment of it. Included are a couple of my own favorites, dark chocolate Moose Munch® Popcorn and scrumptious chocolate cherries (I've been known to hide these away for myself!). Add to that a big chocolate bunny, caramel eggs, chocolate eggs, tropical truffles and juicy Royal Riviera® Pears… This is one stunning Easter basket!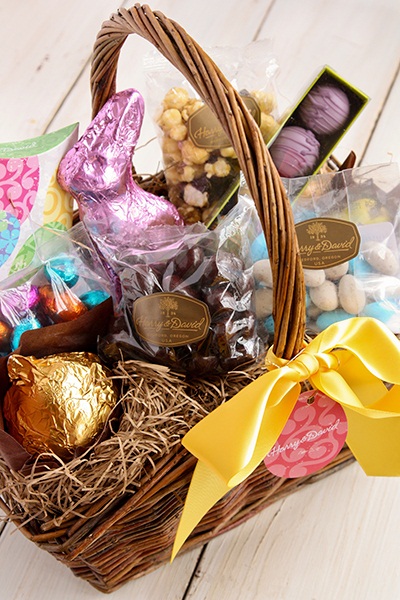 As soon as I had unwrapped this Easter basket, my eyes locked in on the package of pretty blue and tan speckled eggs. Filled with a chewy, rich caramel, they were hard to resist. But I managed to save some to nestle into my Chocolate Chip Angel Food Cupcakes with Vanilla Cream for this Easter dessert.
Angel food cake has always been a favorite around here, a sweet treat that is sure to please a crowd. So I converted my favorite cake recipe into cupcake form for easy Easter entertaining, then added mini chocolate chips to the batter. A poof of creamy vanilla yum was dolloped onto each cupcake top and sprinkled with cocoa to mimic a nest for the caramel eggs.
Can I just say how wonderful these cupcakes are?! They were overwhelmingly approved by my whole family. The cupcakes are soft and moist, with just the perfect scattering of chocolate bits. And the vanilla cream, oh my. With pudding mix added to the sweetened whipped cream, it is nothing short of amazing in both texture and flavor. The speckled eggs are fun and pretty, and they add just the perfect touch to finish these off. Such a delightful cupcake to celebrate Easter and the arrival of spring!
Chocolate Chip Angel Food Cupcakes with Vanilla Cream
Ingredients:
For the chocolate chip angel food cupcakes:
1-1/2

c.

powdered sugar

1

c.

cake flour

12

large

egg whites

(no yolks!)

1-1/2

tsp.

cream of tartar

1

c.

granulated sugar

2

tsp.

pure vanilla extract

½

tsp.

almond extract

¼

tsp.

salt

1

c.

mini chocolate chips
For the vanilla cream:
2

c.

heavy whipping cream

⅓

c.

instant dry vanilla pudding mix

½

c.

powdered sugar

2

tsp.

pure vanilla extract
To assemble the cupcakes:
Cocoa powder

Harry & David® Caramel Eggs

(or unwrapped milk chocolate eggs)
Instructions:
For the chocolate chip angel food cupcakes:
Move oven rack to lowest position.  Heat oven to 375°. Line 3 muffin/cupcake tins with paper liners and set aside. Cut recipe in half for a smaller quantity of cupcakes.

In a medium bowl, whisk together powdered sugar and cake flour; set aside.  In the bowl of a stand mixer, beat egg whites and cream of tartar on medium speed until foamy. Make sure your bowl and beaters are clean and dry, as even a bit of grease or egg yolk will prevent egg whites from beating properly. Beat in granulated sugar on high speed, 2 tablespoons at a time, adding vanilla, almond extract and salt with the last addition of sugar. Continue beating until stiff and glossy. Do not under beat. Now you have meringue!

Sprinkle sugar-flour mixture, 1/4 cup at a time, over meringue, gently folding it in by hand with a rubber spatula just until sugar-flour mixture disappears. Overfolding can break down the egg whites and result in a compact cake. Then gently fold in mini chocolate chips. Divide batter between 36 cupcake liners, filling each liner a bit more than 3/4 full. A medium scoop works great for this.

Bake 18 to 20 minutes, or until cupcake tops feel dry and spring back when touched lightly. A toothpick should also come out dry when poked into the center. If you make the full recipe and have 3 pans in the oven at the same time, you may need to rotate pans halfway through for even baking. Remove from oven and let cupcakes cool in the pans for about 10 minutes. Then remove to a wire rack to cool completely.
For the vanilla cream:
In the bowl of a stand mixer, with the whisk attachment, whip cream, pudding, and powdered sugar until stiff and thick. Add vanilla and mix just to combine.
To assemble the cupcakes:
With a small offset spatula or spoon, add vanilla cream to cupcake tops. Sprinkle with a dusting of cocoa powder and then press two caramel eggs into the vanilla cream.

These cupcakes keep well refrigerated and could easily be made the day prior to serving, just wait to add the caramel eggs until prior to serving or the color may weep overnight. Simply remove from refrigerator about 15 minutes prior to serving.