Wine in Oregon is a growing industry, and Rogue Valley wines have grown immensely in popularity over the years. Complimented for their similar taste to Rhone varietals of France, Southern Oregon's unique microclimates offer the perfect setting to cultivate and create award-winning wines.
Crafting an Award-Winning Pinot Noir
Harry & David's 2012 pinot noir reserve won its first gold medal at the third annual Great Northwest Wine Competition and another gold at The Oregon Wine Experience.
Recently, we spoke with Harry & David wine expert, Sierra Castellano, to find out just what it takes to create an award-winning pinot noir in Oregon. Here's what we found out:
• Many industry professionals believe a good wine starts in the vineyard. Outstanding viticulture practices and terroir sets the winemaker up for a successful vintage.
• Time of harvest at the vineyard is important as well, so making sure the grapes fall within the brix (sugar content in a liquid) and acidity parameters at the time they are picked is very important. The right level of brix and acidity leads to a balanced and successful wine.
• In some cases, such as (most reds and select whites), barrel selection and percentages (such as new, vs. one-year, vs. neutral oak) are important factors. Both of Harry & David's award-winning wines are aged in oak for a period of time.
• Tannin structure is an important factor to consider. The amount of time the wine is aged in the barrel will add complexity through concentration and micro oxidation.
• Judging can be fairly subjective, but in general, judges are looking for a good balance of fruit, acidity, and tannins.
Harry & David Award-Winning Pinot Noir and Chardonnay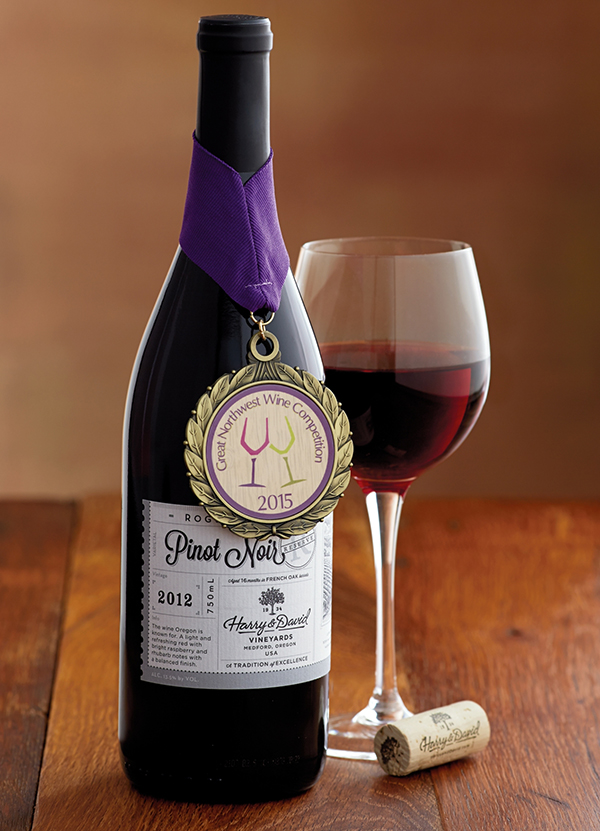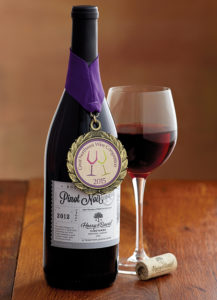 The 2012 pinot noir wasn't our only award winner, though. Our Harry & David 2013 chardonnay won silver at The Oregon Wine Experience. This impressive chardonnay is aged in stainless steel and natural oak barrels, allowing it to develop a lush mouthfeel and finesse.
These two fine wines are packaged together as our Harry & David Award-Winning Wine Duo. They boast very different flavor profiles, and can thus make a perfect "red or white" offering when you host parties or social events.
Chardonnay is a spectacular "food wine," pairing with lighter meals such as seafood or chicken, and adding subtle notes and flavors that true connoisseurs will appreciate.
Pinot noir, on the other hand, is a bolder flavor that pairs well with heartier foods such as pastas or beef dishes.
Whichever your preference, these two award-winning wines are sure to please.
If you're in the market for an elevated taste, consider a bottle of our exquisite wine to serve at your next gathering.