Perhaps it's your turn to host the annual Easter hunt. Or, maybe you just want to liven up the house with the vibrant colors and sweet fragrances of spring. Whatever your reason, we're here to make decorating your home as fun and festive as painting Easter eggs. (Okay, almost as fun.) So, we've put together these suggestions for Easter decorations to get you hopping in the right direction.
Au Naturel
Bring spring into your home by using wood accents and unexpected materials like a grass slab on a cake plate. Add colored Easter eggs for a festive feel that highlights the holiday.
The rustic wooden planter in our Pink Tulip Garden Gift (shown above) is a nice natural touch.
Quaint Cottage
Create a blue and yellow theme to showcase a cottage look.  Start with our Easter Daffodil Garden Gift and add ceramic birds, Easter books, and candy all in various shades of blue, yellow, and white.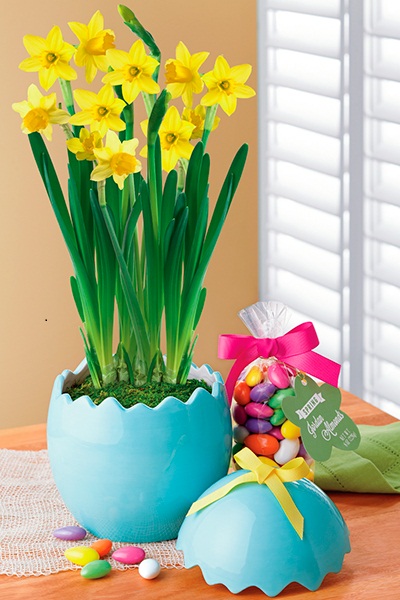 Easter Elegance
Go simple yet classic with our Easter lily and white accents. Use clear vases to add white hydrangeas, decorate with silver and white butterflies or eggs to give a clean and comforting feeling to your table.
Spring Into Easter
Think spring when decorating and add pops of Easter so that you can easily transition between the two. Lots of greens, yellows, pinks, and blues, with highlights of white and silver will create a lighter feel and bring in the sunshine. Add colored Easter eggs, birds and birdcages, as well as baskets from natural materials filled with candies to make easy holiday highlights.
Let your creativity bloom this spring. Send flower bouquets to friends. Share Easter gifts with loved ones at the Easter egg hunt. Above all, have fun. Visit us on Pinterest for more inspiration on Easter decorations. Better hurry, though. Peter Cottontail will be here before you know it.