For almost 30 years Maria Cuevas has been packing gift baskets at Harry & David, working alongside her two sisters-in-law, Hope Navarro and Gloria Jacuinde. When I meet each of them, separately, none of them admit to being the fastest. I secretly want to see them in a gift basket packing race but I refrain from asking. They've got work to do. According to Gloria they're not competitive and they are all so good-natured and happy I think she's telling me the truth.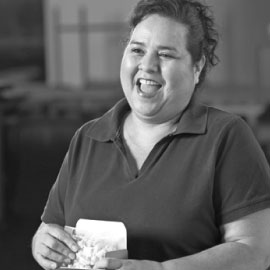 Hope likes to pack big baskets, the more challenging the better. Which basket is the most difficult? According to Maria, it's the #8. I pry for more information, ask if the #8 has a name, but no. She insists that's what it's called, and it's not until later that I figure out that what she's referring to is the Roxy Ann Gift Basket Deluxe, a monster at over 8 pounds. Gloria tells me the hardest basket to pack is not the #8, it's something called "the 5000," which is later revealed to be the Crater Lake Gift Basket. Since I know we have even bigger baskets that weigh something like 30 pounds, it seems weight alone doesn't make one basket harder to load up with goodies than another.
The offseason is the only time Maria packs. When it's crazy busy, in October through December, she trains seasonal employees. All the baskets are filled carefully by hand to supply the endless stream of holiday orders. She trains packers to measure the fruit so they know where to put those enormous pears. Helps them figure out how to protect their hands by wrapping up their fingers in little bandages. Teaches them how to tape down the pears wrapped in gold, which are pretty, but also eager to jump out of those baskets, and a pear that has fallen on the ground is not going to make the cut. She shows them how to stuff hay in the baskets to keep things from moving around. Because everything has to be nice and neat when it arrives at someone's door.
So after decades of packing pears into baskets I ask them if they still like eating this famous fruit. They all give an enthusiastic yes. Hope uses them to make pear bread. Gloria eats them fresh. How does Maria eat a pear? She tells me I'm not going to believe it. She cuts the pear into slices and then adds lime, salt and chili.
"They taste really good," she swears. And I believe her. I'll have to try it for myself.