This Father's Day, delight your Dad with what truly makes him happy. For dads who love beer, we have some excellent Father's Day gift ideas from Gretchen Schmidhausler of the Little Dog Brewing Co.; the Beeroness, Jackie Dodd; and lifestyle expert Julie Mulligan. Discover a variety of extraordinary gourmet Father's Day gifts to share and enjoy with beer while spending some quality time with Dad.
Gretchen Schmidhausler of the Little Dog Brewing Co. shared some of her favorite duos with us so that you can create similar pairings at home this Father's Day. Enjoy!
HEFEWEIZEN
Gretchen recommends drinking Hefeweizen with lighter foods like goat cheese and pita chips. Our Father's Day collection of gourmet snack boxes has a variety of crackers and cheeses so that you can choose his favorites. We think this delicious wheat beer would also be wonderful with exquisite fresh fruit like our Apricot Pineapple Medley.
The Little Dog Brewing Co. offers Steinerweiss, a German-style Hefeweizen, named for the brewery's street address. It is light bodied and flavorful with subtle banana and clove-like flavors.
ALTBIER
This versatile beer pairs well with a smooth Gouda and mixed nuts according to Gretchen. Our Gourmet Cheese Gift Crate has both, in addition to some tasty cheeses from Rogue Creamery, Beehive Cheese Co., and Sartori.
The German-style Altbier from the Little Dog Brewing Co. is amber in color, is medium bodied, and has a slight malt sweetness.
PALE ALE
Sharp cheddar and premium peanuts are best enjoyed with a pale ale, in Gretchen's opinion. It's another versatile beer that Dad can sip on while snacking on nuts from our Mixed Nut Keg. Pale ale would also be a great pairing with this amazing recipe from the Beeroness—Beer-Battered Stout Cheddar Grilled Cheese Beer Bread Bites. The chocolate stout cheddar she uses is available in our Beer-Flavored Cheese Box.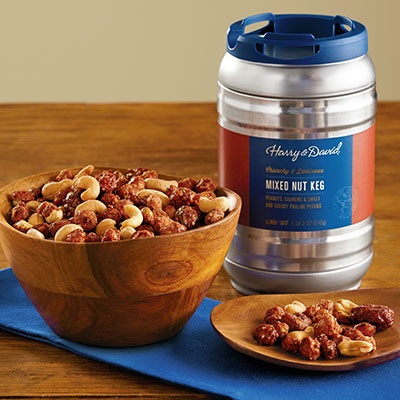 The DuckBoy Pale Ale is the Little Dog Brewing Co.s classic American pale ale—crisp with notes of citrus.
STOUT
Gretchen suggests drinking stout with heartier foods, blue cheese, or chocolate. We'd pair a nice stout with an exceptional Stock Yards® steak topped with blue cheese or maybe with a box of our Signature Chocolate Truffles.
The Little Dog Brewing Co.s Seafarer's Stout is a dry Irish beer with notes of coffee. Gretchen brewed this beer in honor of her father, who loved stout.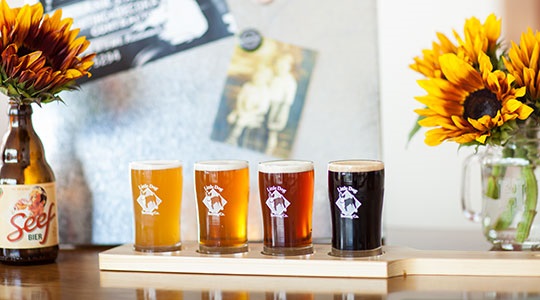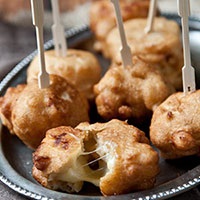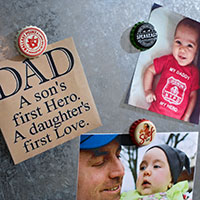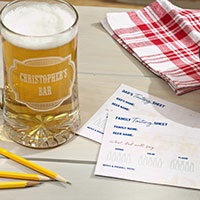 Create a memorable Father's Day celebration with delicious brews, gourmet snacks, and time with family. Cheers!