In 1936, the Hoover Dam was completed. Jesse Owens won the 100 meter dash at the Berlin Olympics. The first edition of LIFE MAGAZINE was published. And Harry and David introduced the first Fruit-of-the-Month Club® Collection. That was a really long time ago. And even though we may not make it to mainstream history's timeline, it's pretty cool that after 76 years, people still think it's neat to send each other fresh fruit every month.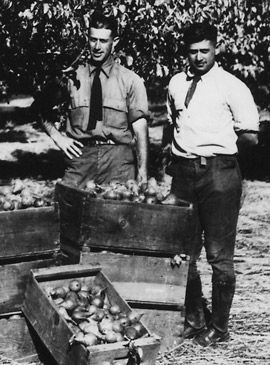 It was originally known as the "Box of the Month". And it consisted of Royal Riviera® Pears, Oregold® Peaches and Golden Delicious apples. I recently visited our one of our Oregold® Peach orchards outside of Talent, Oregon, only about 10 minutes from our offices. I asked Matt Borman, our head of orchard operations, how on earth peaches could grow in mild Southern Oregon. I thought peaches needed the hot hot sun of California or Georgia to get big and Juicy. "Well," he says to me, "that's exactly why ours are so much better". I couldn't help but add a "duh" to the end of his answer.
In 1937, it was renamed the "Rare Fruit Club" and that's when Harry and David started to search the globe for unusual fruit. Like kiwis. Yup. That's when kiwis were unusual. Coming from remote Southern Oregon, where some of the best fruit grows, the brothers had high standards for the fruit they sourced from the very beginning. So high in fact, that they had to create a revolutionary way to ship the fruit across the country. By airplane. Yup. That's when airplanes were revolutionary. And they even won an award from United Air Lines Inc. for being the first ones to use an airplane for shipping perishables.
Eighty years ago, fresh fruit delivered to your doorstep each month was a new idea. So were kiwis. So were airplanes. A lot has changed since then. But people still like to send each other fruit. So we continue to do it the old fashioned way. Searching the globe for the growers that do things like we do. Grow awesome fruit and do whatever it takes to get it to you. Like privately flying in pineapples from Hawaii during a shipping strike. Yup. Harry and David actually did that. They didn't want to disappoint their customers. Duh.