What is it they say? "If you love what you do, you'll never work a day in your life." Local florist Vivian Chang lives by this quote. She's loved art and flowers since she was a child, and she's turned her creativity into a successful profession.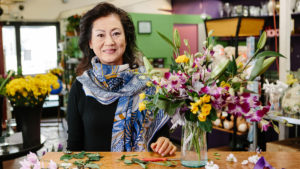 Vivian's floral career began to bloom when she was in college and in need of part-time work. Her cousin had a flower shop in Los Angeles not far from where Vivian attended school and offered her a job, so she decided to give it a try. "I was going to be a salesperson," she says. "After a week, I was designing already."
It was the perfect match. "I just fell in love with the business." And 35 years later, that's still true. Now she runs her own shop and is excited every morning to see what projects the day will bring. She especially looks forward to meeting new walk-in customers and catching up with her many repeat clients.
A local florist's talent for pleasing customers
Vivian has a talent for working with gorgeous, colorful flowers and creating one-of-a-kind bouquets, and when her designs bring her customers happiness, she's happy, too.
Every day is different for this local florist — she may be asked to provide a bouquet for a birthday or flowers for a funeral or a wedding — and she enjoys helping people who don't know exactly what they want. "We always start with colors," Vivian explains. "You have to think about what color the person likes, what kind of flowers they like. They might not have a specific flower, but they know, 'Oh, she likes spring-looking flowers or pastel tones.'" Just a few words can point the designer in the right direction and help her create something special and unique.
"When I start designing, it doesn't matter what happened that morning or what's going on in my life," Vivian says. "When I look at flowers and when I'm creating, I only focus on what the person would like and what my customer asked for. There is nothing else."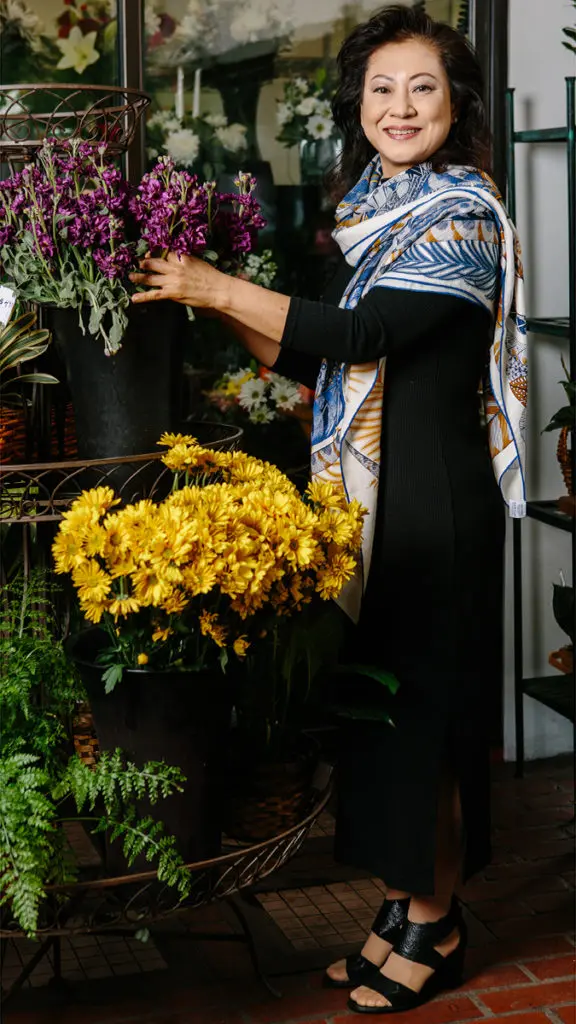 A peek behind the scenes
Vivian loves the variety and quality of blooms she gets from 1-800-Flowers.com. "They come from all over the world," she says, with tulips arriving from Holland and most roses from Ecuador or Colombia. High-quality flowers from 1-800-Flowers are supplied to local florists like Vivian, and the company teaches florists how to make sure the flowers look great for a long time.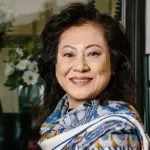 When I look at flowers and when I'm creating, I only focus on what the person would like and what my customer asked for. There is nothing else.
Vivian Chang
1-800-Flowers.com Local Florist
"Once we get the flowers, we give them all kinds of vitamins to make them look prettier and live longer," Vivian says. Whether customers walk into the shop or order online, she wants them to enjoy their flowers for as long as possible.
While Vivian's store is very close to Beverly Hills, she caters to all budgets, and she says that customers appreciate being able to order from the 1-800-Flowers website, where they can get fresh ideas and customize their gifts. "The product development team is creating something new every day," she says. "They're creating all the time so the online customer will be able to pick and choose what they like."
For Vivian, her mission is the same no matter what occasion the flowers are for. Whether it's a happy celebration like a wedding or a birthday or an occasion where people are in need of extra comfort, such as at a funeral, this local florist wants her flower arrangements to raise customers' spirits and make a lasting impression.