Carol Brenneman and her late husband, Terry, opened Lickity Split Café in 1997, along with their daughter, Laura. Since then, the popular Englewood, Florida, dining establishment — with its booths designed like vintage cars, rock 'n' roll memorabilia adorning the walls, and a menu that features 32 flavors of homemade ice cream — has earned a reputation as a local favorite. But that's not the only reason people flock there.
Since 2018, Lickity Split Café has been fulfilling local orders for Fruit Bouquets, and, since 2019, for Shari's Berries. And last year, it received a top performance award from 1-800-FLOWERS.COM for the work it did during the Mother's Day rush.
We talked to Carol, 74, and Laura, 53, about how their partnership with 1-800-FLOWERS.COM got started, why they think their business has been so successful, and what it's like working together as mother and daughter.
How and when did 1-800-FLOWERS.COM approach you about starting to do orders for Fruit Bouquets?
Laura Brenneman: In 2018, they contacted us through our Facebook page. I didn't even believe that it was real; I thought it was a scam. But after looking into it, I said to Mom, "I've got this person that says he's the CEO of 1-800-Flowers, and he wants to see if we would be an outlet for Fruit Bouquets." We thought, this is crazy. How would they even find us, here in this little town? So, we looked him up, and we were like, "Holy cow!" We called back and he sounded like such a wonderful guy, and (with) such a great company. It seemed like a wonderful opportunity, and we thought, well, what a great thing to try.
What did they tell you about why they chose Lickity Split Café?
Laura: He said he liked what we were doing with our Facebook page. It had a lot of positive messages on it, and generally, as a rule, I try to put positivity out there. It wasn't all just business; it's never all business with us – it's very personal. You have to want people to feel good about whatever you're doing because you've got to put good in the world.
We treat every order like it's a gift that we're personally sending somebody.
Laura Brenneman
Co-owner, Lickity Split Café
Carol Brenneman: It's more than just about our café. It's more than just about the fruit bouquets and the berries. My husband years ago used to always say, "It's not about the food; it's not about the product you're selling. If you don't take good care of the people on both sides of the counter, you won't have good business."
How do you approach the work you do for Fruit Bouquets and Shari's Berries?
Laura: We treat every order like it's a gift that we're personally sending somebody. If I'm not proud to take it to somebody, I'm not going to take it, because that's somebody's gift. We want to make sure that it looks right, that it's nice fruit — we handpick 90% of our fruit — that it is of good quality, and that the person receiving it is going to be happy with it. Because if they're not happy, then there's no point in it.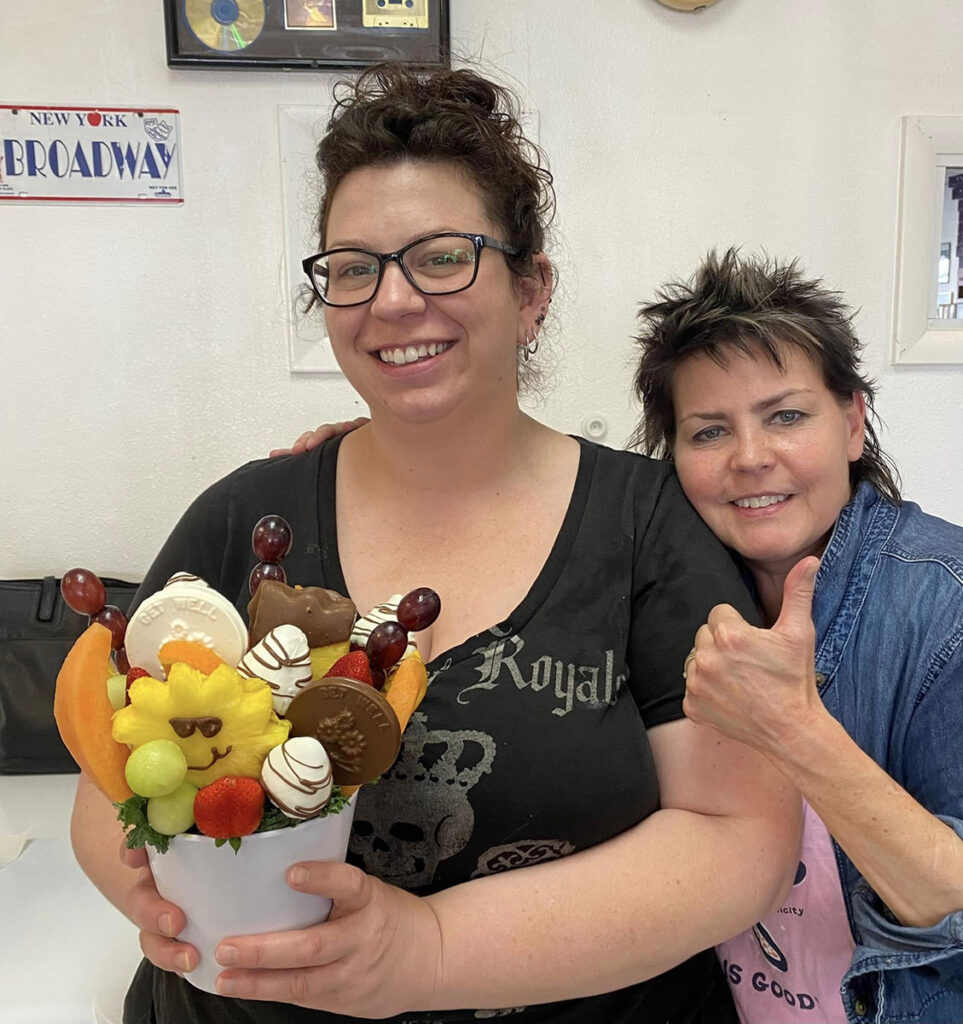 Between running the café and handling orders for 1-800-Flowers.com, how are you able to stay on top of everything that needs to get done?
Carol: We have a really good team. One woman, Shanna Brown, has been with us since she was 16. She just turned 40 and had her first baby, and works full time and has for that whole length of time. She's a great employee and friend, and just an amazing person. And she's just like a sister.
And we have several other people who have been with us for years. It takes a team to get this stuff done.
What is it like working together as mother and daughter?
Laura: It's wonderful. We're best friends. We're a really good team. And the people here are like family. Some of them actually are family. It's a true family business.
Carol: My niece, Peyton, works for us too. She's been here for a lot of years. And when you've got people that get along and care about each other, then you care about the business, and that means a lot.