Lovers of summer fruit rejoice—our Cherry-Oh!® Cherries are now shipping. Perfect for snacking, as unique appetizers, and even in desserts, cherries make a delicious and versatile fruit delivery, and Harry & David is just where to buy cherries.
Our cherries thrive in the wet climate and volcanic soils of the Pacific Northwest. Cherry-Oh!® Cherries are especially delicious, with rich, juicy flavor, and each has a slightly crisp skin that pops when you bite into it. They're a delight to enjoy by the handful, but they can also be used as a topping for granola, pancakes, or salads.
When entertaining guests, pairings of fruit and cheese have become elegant and popular appetizer offerings. However, cherries present a unique challenge as they should be served with a cheese that won't overpower their rich, sweet flavor. That rules out a good number of salty and sharp cheeses, which is why we recommend serving sweet cherries with Brie. We even offer a gift that features cherries and creamy Triple Crème Brie cheese from the Marin French Cheese Company.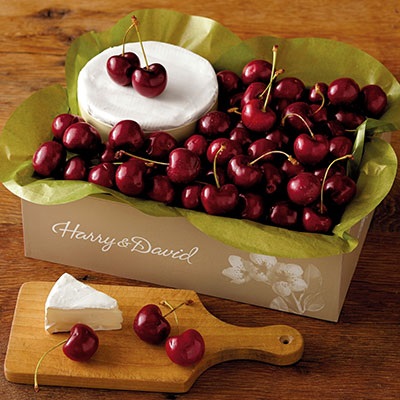 A two-time gold medal winner at the World Cheese Awards, this Brie has a buttery texture with flavorful hints of mushroom and almond.
On the dessert side of things, our chocolate cherries—among the most popular confections we make in our candy kitchen—are wonderful after-dinner treats and sweet snacks for when you're on the go.
Cherries—tart cherries, especially—are wonderful to use in baking. Sandy Coughlin of Reluctant Entertainer actually created this cherry cobbler recipe that uses our handpicked Cherry-Oh!® Cherries.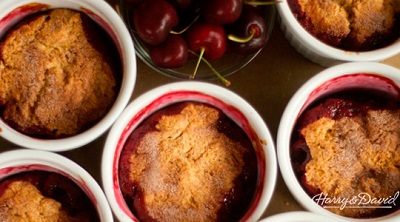 Do you have a cherry recipe that you recommend?