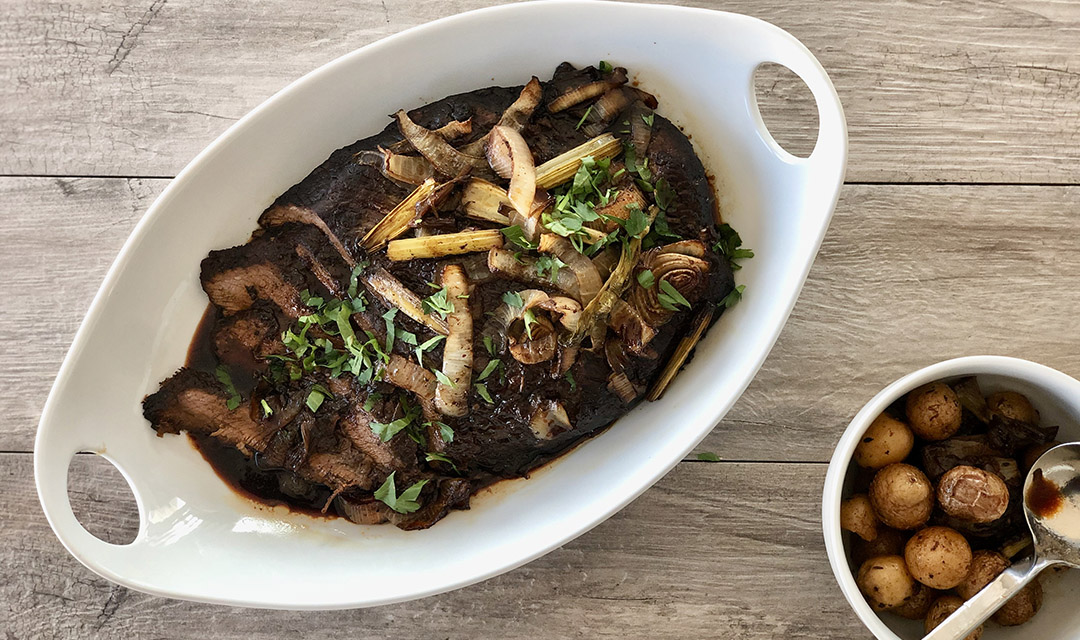 Chef Jennifer Iserloh shares her recipe for slow-cooked brisket, a cut of meat traditionally eaten at Jewish holidays that needs a lot of time and liquid to achieve perfection.
1 4-5

pound

piece untrimmed flat-cut beef brisket

2

teaspoons

kosher salt

1

teaspoon

freshly ground black pepper

3

tablespoons

olive oil

(divided)

2

medium onions

(thickly sliced)

3

celery stalks

(cut into 2-inch pieces)

1

head of garlic

(halved crosswise)

1

bunch thyme

¾

cup

Harry & David Royal Riviera Pear Balsamic Vinaigrette

¼

cup

low-sodium soy sauce or Bragg Liquid Aminos

2

cups

water

1

pound

baby potatoes

¼

cup

flat-leaf parsley sprigs
Preheat the oven to 300°F. Sprinkle both sides of the brisket with salt and pepper. Warm half of the olive oil in a large skillet over medium heat. Add the brisket and brown 6 to 8 minutes, without moving. Flip and brown the other side for another 6 to 8 minutes. Transfer to a baking dish, preferably 9x13, large enough to accommodate the potatoes as well as the meat.

Add remaining olive oil to the skillet and place over low heat. Add the onions and celery and cover. Cook for 4 to 5 minutes, stirring occasionally until the vegetables soften. Arrange the vegetables on top of the brisket. Tuck the garlic head in the corner of the baking dish and scatter the thyme sprigs over the meat.

Add the balsamic vinegar, soy sauce (or liquid aminos), and water around the meat. Cover well with two layers of aluminum foil and bake 3 ½ to 4 hours, until very tender. (The tip of a knife should easily pierce the meat.) Add the potatoes for the last hour of cooking.

Uncover brisket and increase oven temperature to 400°F. Transfer the onions, celery, and garlic head to a large platter. Return the brisket with the potatoes to the oven to allow the top to crisp and the liquid to reduce by a third, 30 to 45 minutes.

Before slicing, cool the meat slightly for about 10 minutes, then transfer to a cutting board. Slice with a serrated knife and transfer the brisket to the plate with the vegetables. Spoon over half of the braising liquid and garnish with parsley. Transfer any extra braising liquid to a gravy boat. Serve the potatoes on the platter or in a separate bowl.