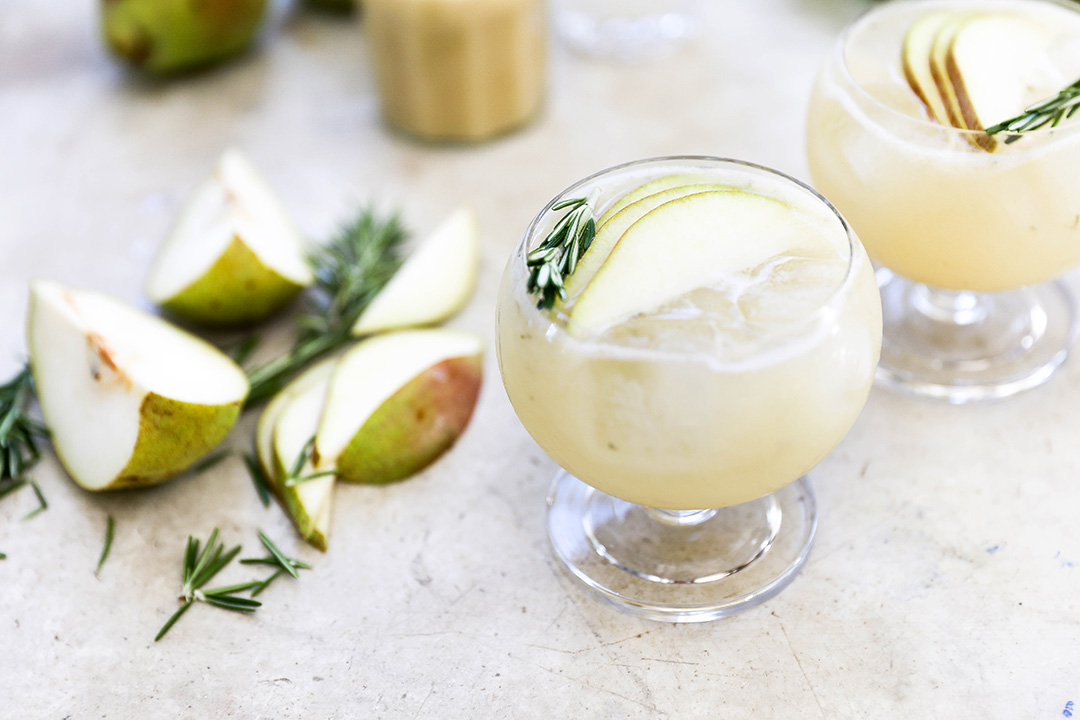 The holidays are all about family, and nothing brings all the generations together like food! In Homespun Holidays we explore recipes perfect for new family traditions, shareable plates for your next holiday get-together, and small-batch desserts and sides for more intimate gatherings.
For the Pear-Rosemary Purée:
For the Cocktails (Makes 2):
3

ounces

pear-rosemary purée

3

ounces

gin

1.5

ounces

elderflower liqueur

Ice cubes

Tonic water or club soda
For the Purée:
In a medium saucepan, combine the chopped pears, water, sugar, lemon juice and rosemary. Bring to a simmer and cook, stirring occasionally, for 10-12 minutes. The pears should be softened.

Remove the saucepan from the heat and let cool. Remove and discard the rosemary sprig. Then transfer the cooked pears and any remaining liquid in the saucepan to your blender and blend on high until smooth. Transfer the pear-rosemary purée to a clean re-sealable container and refrigerate until well chilled. The purée can be stored for 2-3 days.
For the Cocktails:
Add the pear-rosemary purée, gin and elderflower liqueur to a shaker with ice. Shake vigorously until well chilled. Then strain the liquid into two serving glasses with ice. Top with tonic water or club soda.

Garnish with sliced pears and fresh rosemary. Enjoy immediately.