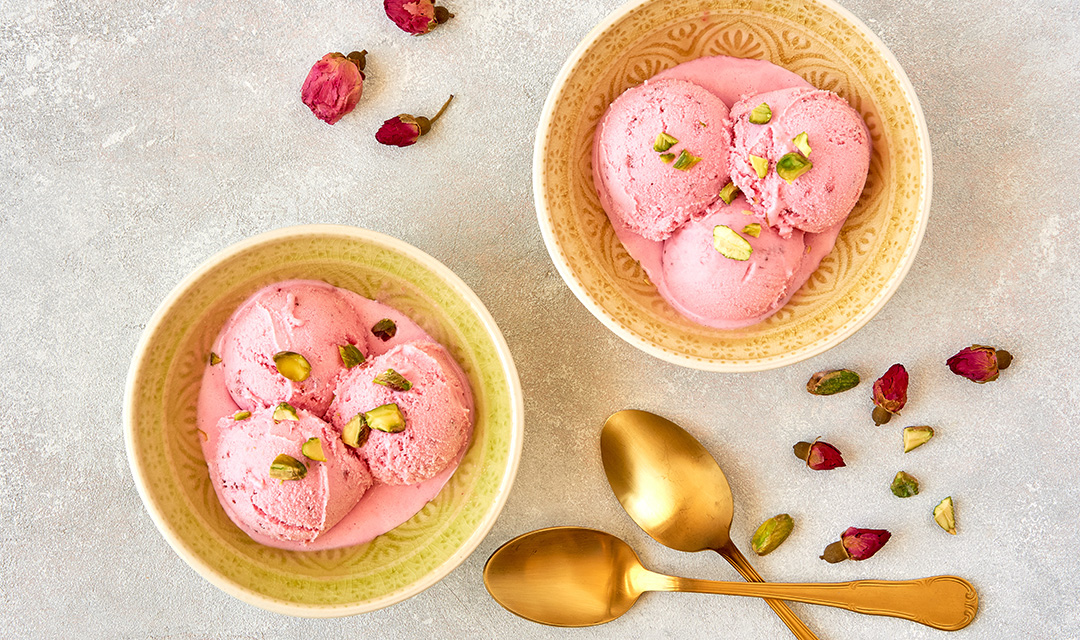 This easy-to-make rosewater ice cream incorporates rosewater and chopped pistachios. Take a cue from traditional Persian bastani and, if you like, add a half teaspoon of saffron powder to give your ice cream a golden hue and a hint of earthy sweetness. Or replace the rosewater with orange blossom water and add a half teaspoon of ground cardamom for yet another variation on this delightful summer treat.
Remove from the heat. Whisk the egg yolks in a bowl and slowly stir in a cup of the hot cream mixture to temper it (this keeps the eggs from curdling). Stir the egg-cream mixture into the saucepan with the rest of the cream and return the pan to the heat.

Stir constantly over medium heat until the mixture thickens, about 10 minutes. (It will not be as thick as a pudding; it's more like a crème anglaise — a French custard sauce.) Remove from the heat (if using the saffron threads, dissolve them in the rosewater before adding), and stir in the rosewater and taste. Add a little at a time until it has the flavor you want.

Freezing modifies the flavor of ice cream — once it's frozen, it will not taste as sweet — so if you like a sweeter ice cream, use the greater amount of sugar; if you prefer the flavor of rosewater, add a little more of that.

Strain the custard into a bowl to get a nice smooth consistency. Chill the custard (if you are in a hurry, place the bowl of custard over an ice bath and stir it until it's cold; if you have more time, just put the bowl in the refrigerator). Once the custard is cold, process it according to the instructions on your ice cream maker.

Garnish with sprinkles of pistachio before serving.