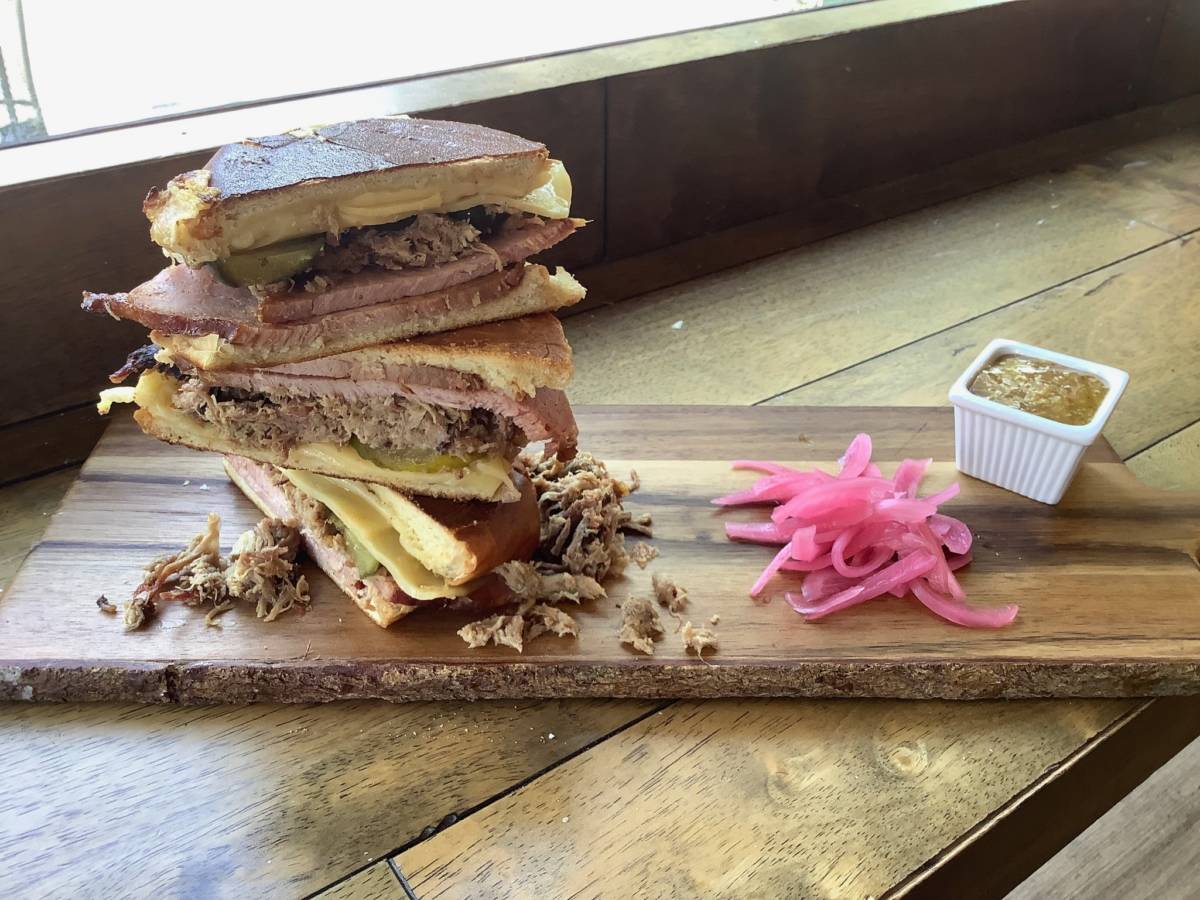 This sandwich is the classic Cubano or Cuban sandwich that is very popular in Miami (Dolphins) and Tampa Bay (Buccaneers). It is typically roast pork, ham, swiss, and pickles toasted on a press until the outside is crispy and the inside melts together. These are easy to assemble ahead of time, and then toast on a griddle or even a grill on game day. The sandwich is also very portable and filling, so it can get you through the whole game — even overtime — whether you're at the stadium or on your couch. I like to do a double serving of pickles by adding chopped cornichons to the mayo. And, if you have them, add some pork rinds for a delicious crunch.
4

soft Cuban-style sandwich rolls

Butter — a lot of it

(softened)

12

slices

Harry & David glazed ham

12

ounces

roasted pulled pork

(warm)

12

slices

Swiss cheese

1

jar sandwich pickles

sesame mustard for spreading

(plus 4 ounces separated)

1

cup

plus 2 1/2 ounces mayonnaise

(separated)

4

ounces

pork rinds

(optional)

¼

cup

cornichons

(finely chopped)

½

ounce

hot sauce
Split the rolls and lay out the bottoms on a tray.

Spread a thin layer of mustard on the bottom of the bread.

Layer the ham.

Divide the roast pork on top of the ham slices.

Place the pickles across the roast pork.

Layer the cheese over the pickles to cover them.

With a brush, spread a generous amount of butter on the outside of the sandwich and place on the preheated panini press. Cook on medium-low heat until toasted and golden on the outside and warm on the inside.

Remove from the press and take the top half off the sandwich. Place the pork rinds (optional) and spread the mayo on the top bun before placing back on the sandwich.

Mix the remaining mustard, mayo, and hot sauce, and serve as a dipping sauce.