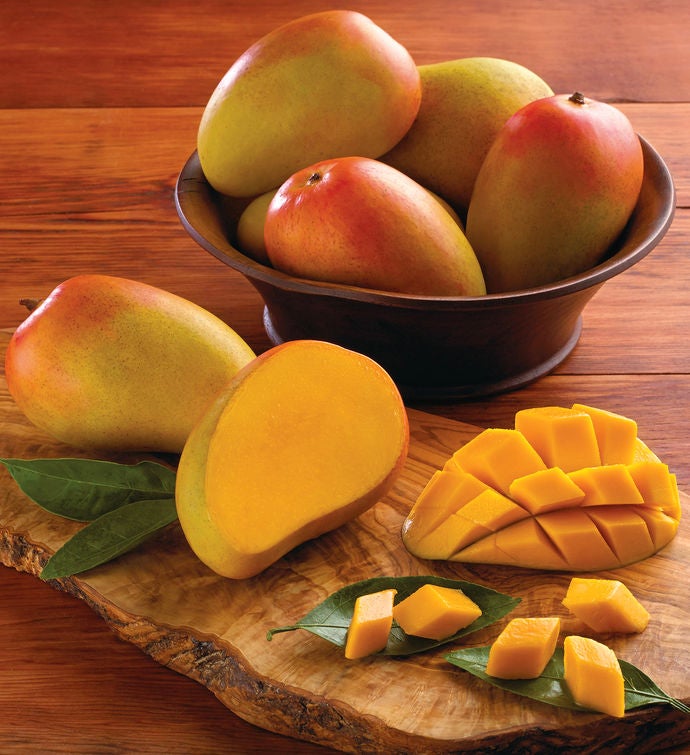 RARE AND DELICIOUS HONEY MANGOES
Discovered about 60 years ago in southern Mexico, the Honey Mango (or Atualfo Mango) is vibrant yellow, oblong-shaped, and a smaller fruit than the typical mango you're familiar with. Sweet and delicious, with a rich, spicy flavor, Honey Mangoes have a small pit and creamy, easy-to-eat flesh. We have carefully selected a third-generation farming and packing company, the Ciruli family, that specializes in growing Honey Mangoes on plantations in central Mexico. Only available from late May to the end of June, Honey Mangoes are harvested at their peak, shipped to Arizona and sent out quickly to ensure freshness and quality in each box.
Harvest Information
PEARS
Royal Verano Pears are now shipping.
CHERRIES
Now shipping from California.
APPLES
Pink Lady Apples are currently shipping.
APRICOTS
Cold weather and rain indicate an exceptional crop. Expected to ship on time from California.
PINEAPPLE
Expected to ship on time from Costa Rica.