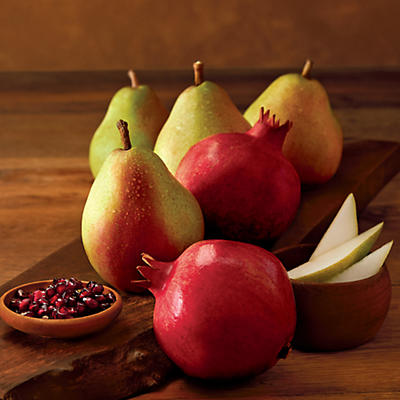 Our pomegranates are grown in California's San Joaquin Valley, widely recognized as one of the best growing regions in the world for pomegranates. Pomegranates are an ancient fruit; they are mentioned in the Bible and in a number of ancient Greek texts. A good source of antioxidants, they are high in Vitamin C and potassium and are considered a superfood.
Pomegranates are a versatile fruit and can be used for any meal of the day. The seeds–called "arils"–are delicious whether they're added to oatmeal, yogurt, or salads. They can be used in sauces or mixed into rice or couscous. Good for snacking, they also make a great topping for ice cream and add a unique touch to martinis, champagne, or cider.
These pomegranates are quite large; most will be around two pounds. The slight tartness of the arils is a wonderful complement to the juicy sweetness of our large Cream of the Crop Royal Riviera® Pears.
Harvest Information
PEARS
The Favorite® Royal Riviera® Pears are now shipping.
APPLES
We are currently packing our gifts with Braeburn and Fuji apples from Washington or Empire apples from New York.
CHERRIES
Holiday Cherry-Oh!® Cherries will be available soon.
FALL FRUITS
Our fall fruit offerings include pomegranates and persimmons, both from California, and mini pumpkins from Oregon's Willamette Valley. Click here to view our entire assortment of seasonal specialty fruits.