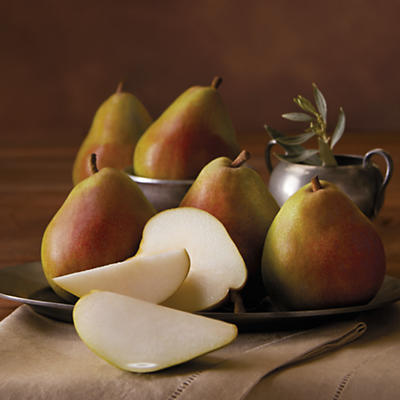 Our Southern Oregon Royal Riviera® Pear harvest has arrived.
This year marks the earliest harvest in recent memory, and we brought 315 professional harvesters from all over the West Coast to our picturesque Rogue Valley orchards to assist. The pears experienced a normal blooming period, but record warm temperatures in April, May, and July spurred the crop to arrive early.
Pears actually won't ripen to their full potential if left on the tree, which is why we pick them at a mature state and keep them in cold temperatures until they're ready to be shipped. The cold climate interacts with the sugars in the fruit, causing them to saturate. However, they won't reach peak ripeness and sweetness until exposed to room-temperature air, which you can control by leaving them in the refrigerator until you're ready to enjoy your pears.
Harvest Information
Updated: September 19, 2014
Updates
PEARS
The Favorite® Royal Riviera® Pears are now shipping.
APPLES
We are currently packing our gifts with Braeburn and Fuji apples from Washington or Empire apples from New York.
FALL FRUITS
Our fall fruit offerings include pomegranates and persimmons, both from California, and mini pumpkins from Oregon's Willamette Valley.