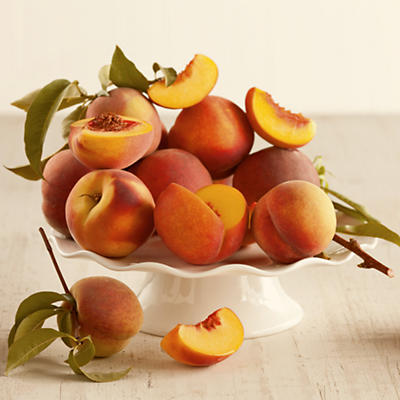 FRESH OFF THE BRANCH AND JUICY SWEET
Our peach season is underway nearly a week earlier than last year, and we have a great deal to be excited about this year. A warm spring and plenty of sunshine infused our peaches with lots of color and character. Unlike pears, peaches ripen top to bottom and from the outside in, which can make timing the harvest a bit tricky. Good thing we have such an awesome and experienced harvest team. They know exactly when the peaches should come off the branch, so we can harvest the peaches and get them ready to ship in just a few hours. That means you're getting our peaches at their peak. When ripe, peaches have a distinct fragrance. If your peach doesn't smell peachy, you'll want to wait a little longer before eating it.
Harvest Information
Updated: August 22, 2014
Apple Varieties Shipping: Pink Lady
Updates
PEARS
Angélys have arrived. We will be featuring this French Comice/d'Hiver cross grown in New Zealand in our summer Royal Riviera pear gifts.
PEACHES
Oregold® Peach shipments have begun and due to the weather this year, they've matured a few weeks early. Some customers expecting their peaches in September will receive them in late August. Peaches will continue shipping throughout the month of September.
NECTARINES
Early indications are that the California nectarines will also ripen a bit earlier than normal, so September club shipments started going out in mid-August.
APPLES
We are currently packing our gifts with Pink Lady apples from Washington.