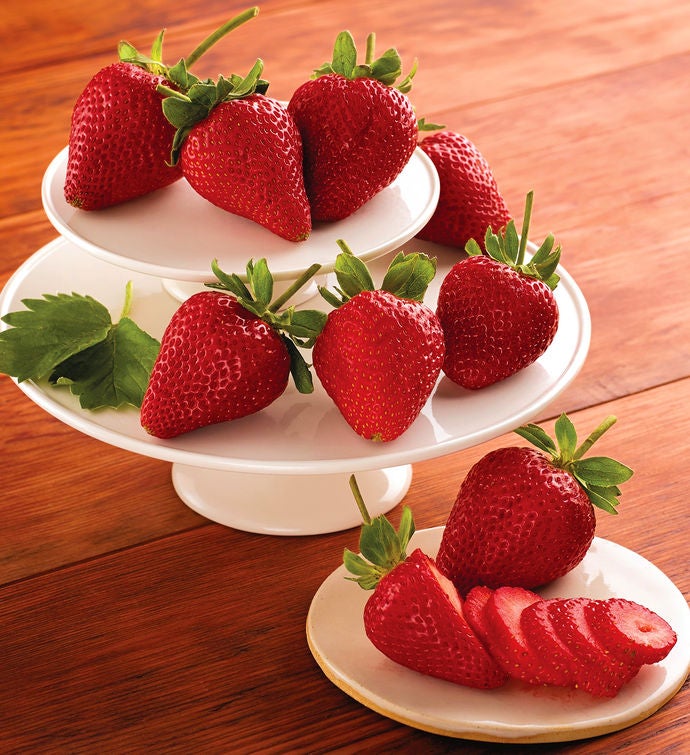 SWEET AND JUICY GIANT STRAWBERRIES
Our May fruit of the month is the delicious Giant Sweet Strawberry. Grown in carefully tended fields near Monterey Bay in California, these berries grow extremely large and are extra juicy. Morning coastal fog and sunny afternoons provide the perfect conditions for extraordinary strawberries. These giant berries are truly impressive, and it can take up to five bites to eat just one. The harvest has begun, and we are now shipping the freshest strawberries directly to your door.
Harvest Information
PEARS
Royal Verano Pears are now shipping.
APPLES
Pink Lady Apples are currently shipping.
STRAWBERRIES
Harvest will be a bit early this year, but we expect strawberries to be very large and sweet.
MANGOES
Grown in Mexico, Tommy Atkins Mangoes should be shipping on time in May.
PAPAYAS
Due to drought conditions in Brazil, we will not be able to obtain papayas that meet Harry & David standards.