I love learning new things, especially if, instead of having to trek to a classroom, I can do it from the comforts of my living room or kitchen.
Fortunately for folks like me, Alice's Table, which originally focused on in-person flower arranging instruction, began offering live virtual events hosted by sommeliers, mixologists, and other instructors in 2020 — and, as of September 2022, also has pre-recorded on-demand workshops. (Private group workshops are also available.) All provide step-by-step guidance for activities that range from creating a stunning seasonal wreath to assembling a picture-perfect charcuterie board.
I was impressed by the concisely packed box of ingredients I received for the Halloween-themed Spooky Fall Cocktail event I attended in mid-October. All the necessary items to make two drinks — including small flavored simple syrup bottles, a grapefruit oil spray, and a tiny bag of toasted coconut (but not including the alcohol) — were laid out on a cushion of crinkle-cut paper in the package.
Two printed cards in the box outlined the recipe for the Spellbinder, a piña colada-type drink made with cream of coconut, and Mystic Brew, a caffeinated take on an old fashioned seasoned with a spice-infused coffee syrup.
Lots of mixing, not much mingling
On the day of the live event, I received an email with the streaming information for the Zoom-based workshop, along with the kit contents. Besides liquor, I only needed to provide ice. Mezcal, the recommended liquor, isn't the most common item to have on hand; tequila, though, was suggested as a substitute.
During the 45-minute workshop, host Betsy Karetnick — founder of The Portable Garden, a floral and event design company, and a former host of SiriusXM Martha Stewart Living shows — was the visual focus. Participants could comment and ask questions via the chat, but they couldn't see each other, which made the experience less sociable.
Karetnick, stationed in her modern French farmhouse-styled kitchen, moved briskly through each recipe. Guests were not afforded different camera angles or close-ups, but the video and sound quality were clear, and her directions were easy to follow.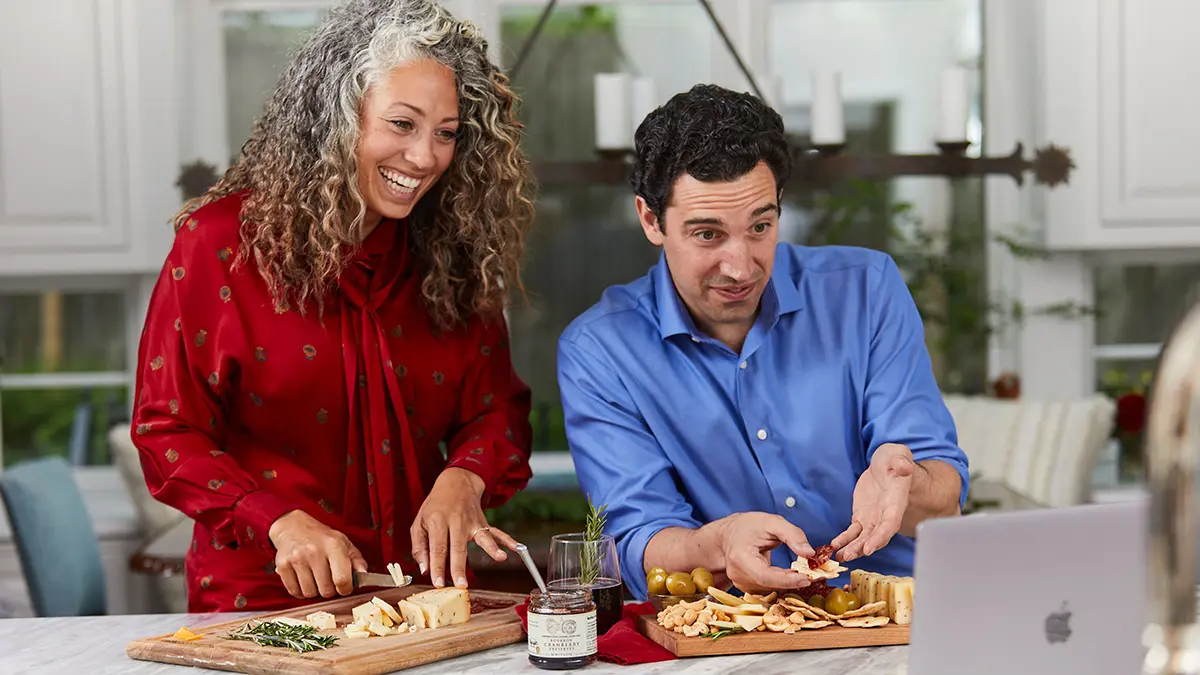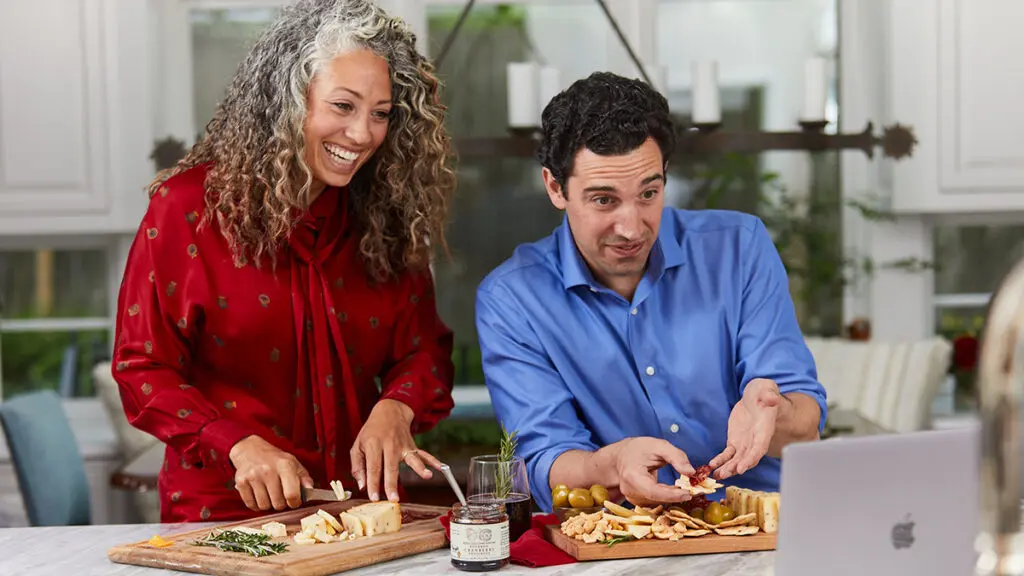 The host intermittently wove facts about the ingredients into her instruction, such as the history behind the use of bitters (they were originally a medicinal item taken for digestive issues, she explained), and offered tips, including a suggestion to run the small syrup bottles under hot water to open them. They arrived without being encased in any additional packaging so I was impressed that a single drop hasn't spilled out during shipping.
Both cocktails were delicious. The creamy Spellbinder makes for a great dessert drink. The Mystic Brew concoction featured a festive garnish: a charred cinnamon stick balanced on the glass. The effect is achieved by briefly lighting the stick on fire using a small book of matches included in the kit. While it can take a few seconds for the flame to ignite on the cinnamon stick, as Karetnick advised, you want it to ultimately be slightly blackened, not completely scorched — so you don't want to let it burn forever. When mine failed to extinguish itself after a few seconds, I quickly blew the flame out.
The drink's next-level smoky cinnamon stick touch could make the Mystic Brew a stellar choice if you're trying to impress guests. Or if you just find it entertaining to watch people repeatedly try to prevent a singed cinnamon stick from rolling into their face as they sip. (Maybe that's why we can't see each other…)
Pasta-making master class
My second Alice's Table workshop, an on-demand offering called A Taste of Italy: Gnocchi Pasta Making, packed an impressive amount of instruction into just 15 minutes.
The kit included several ingredients to make the sauce, including Sicilian oregano, fresh garlic, and a container of luscious San Marzano tomatoes — a variety that's sweeter and less acidic due to the volcanic soils in the Campania region where it's grown. The spices used in the sauce come in small, clearly labeled bags that made grabbing the right one easy.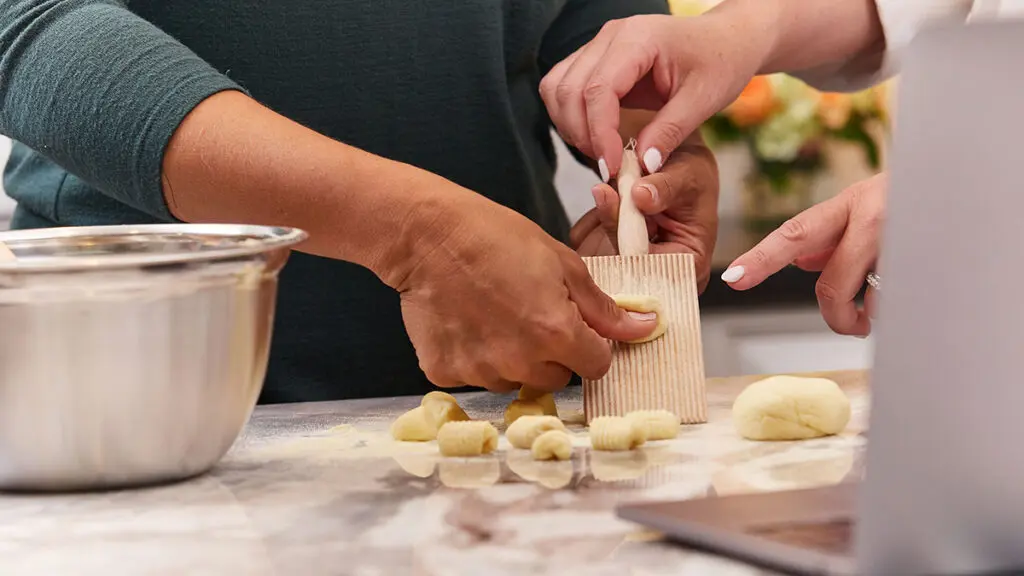 I was surprised I didn't need to add eggs or any other ingredients to the finely ground Semolina flour to make the gnocchi; I simply had to mix it with water.
The instructions were a breeze. Viewers can pause and rewind the video if they miss something, and they don't have to wait for the more time-intensive steps to play out. When the sauce is cooking, for example, the scene just fades and picks up again when the sauce is almost ready.
Participants see numerous close-ups of key actions, such as rolling the pasta, which was helpful to learning the correct technique. I've made gnocchi before, using potatoes, with no sense of how to shape the pieces, and they turned out so lumpy and inconsistently sized that the end result looked like a series of small, half-melted nesting dolls. However, by lightly rolling each piece I created across the included wooden gnocchi board, as instructed, I could give the pasta attractive, restaurant-worthy ridges.
Lively lessons
The live and on-demand Alice's Table workshops, which are generally 30 minutes to an hour long, attract a varied audience, according to founder Alice Lewis. Guests range from family members to coworkers, and couples on a date.
One previous participant commended the educational aspect of the workshop, describing the host as a "knowledgeable, funny, and personable" guide who came equipped with multiple fun facts about the subject matter.
Catherine, a previous workshop attendee, specifically mentioned the "expert tips and quality of the products that were provided prior to the class" as high points.
A number of participants enjoyed their first workshop so much that they registered for another one — or, in some instances, several more. Michelle, for instance, has attended three and says she loved each experience.
Carrie is an Alice's Table devotee, with six virtual workshops under her belt. "The instructions for pre-class care are informative and helpful," she says. "I highly recommend taking a class — it is fun!"
---