Nothing beats a cup of warm, spiked apple cider on a cold day. This version is made even cuter and more festive by serving it up in cups made from hollowed out apples! Who would have thunk it? Serve this cranberry and apple cider cocktail at your next gathering and enjoy watching the jaws drop to the floor.
The apple cider cocktail portion of this recipe is incredibly simple. You only need one big pot and about 15 minutes of time. I recommend a golden rum for this recipe, but a spiced rum works too. To add that extra kick of fall flavor, I added some Harry & David Apple Butter, which makes this cocktail a little smoother and sweeter. To top it off, add in a handful of fresh cranberries, rosemary, cinnamon sticks, and star anise. These spices are key to great flavor, and aroma so your house will smell amazing as the cider warms.
While the cider warms, prepare the apple cups. Make sure your apples are crisp, sturdy, uniform, and blemish free. A melon baller is hands down the best tool for this kind of scooping job, and I highly recommend grabbing one if you don't already have one. You could use a regular spoon in a pinch, but I struggled more with this method.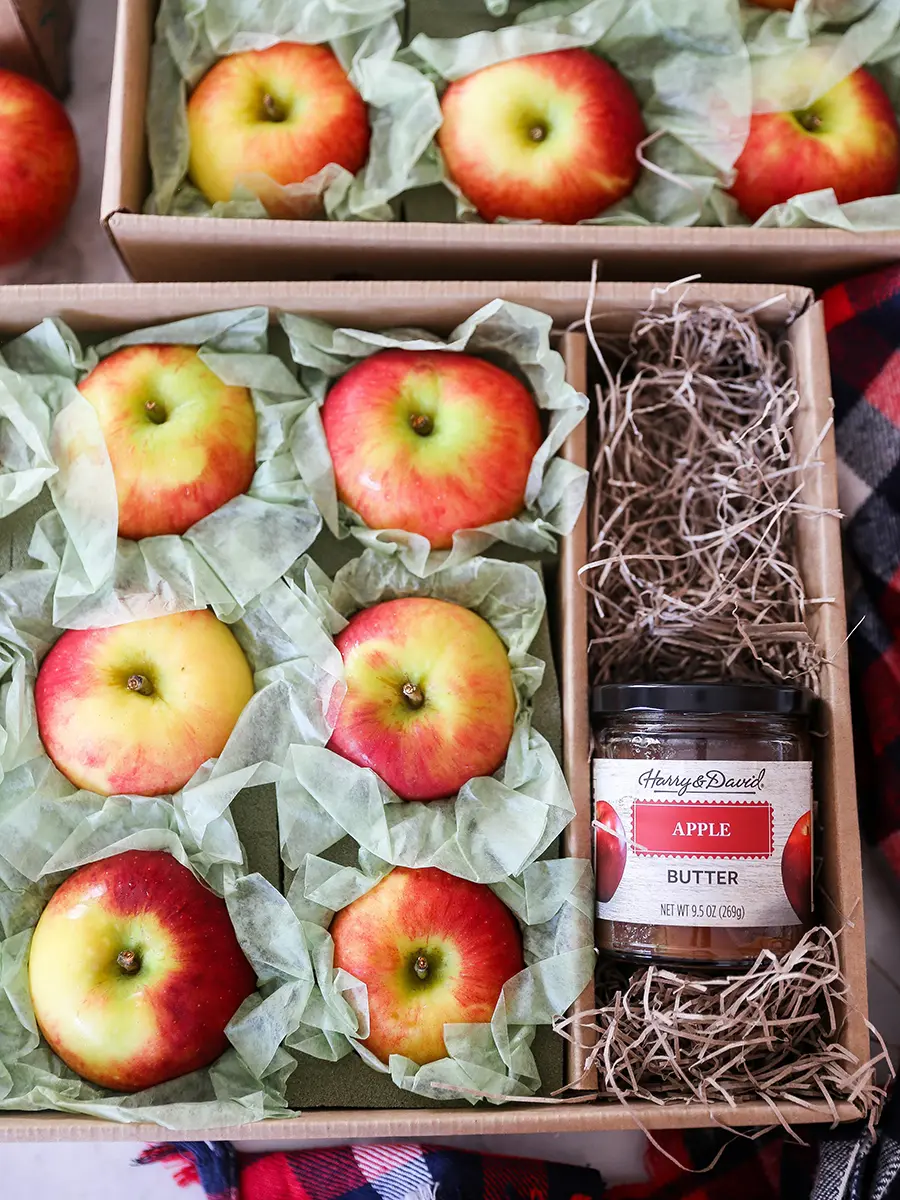 When you're scooping out the flesh from the apples be careful not to go too deep or too close to the sides. Make sure you have at least 1/4-inch on all sides and the bottom. You don't want to risk puncturing the sides or the bottom because then your apple cups will leak. And that would be a mess.
As you make each apple cup, squirt a little fresh lemon juice over the exposed flesh to help delay browning. Don't make the apple cups more than an hour before you plan on using them.
The last thing to check is that your apple cups stand upright. If they are wobbly, well, that's another mess waiting to happen. If the apple cups don't stand firmly upright, slice off a thin section from the underside to level them.
These apple cups may look fancy, but they are secretly easy to make and once you get the hang of it, you'll be churning them out in no time.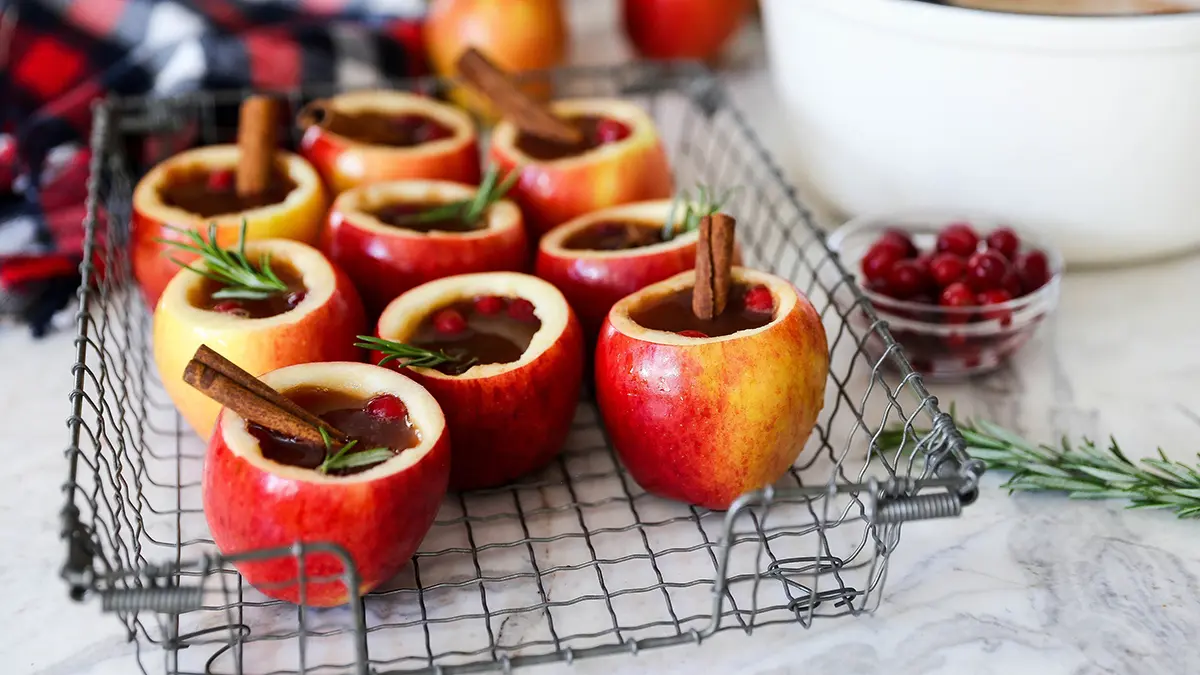 Apple Cider and Cranberry Cocktail in Apple Cups
Ingredients:
For the cider
4

cups

apple cider

(not apple juice)

1

cup

cranberry juice

1

cup

rum

½

cup

fresh cranberries

1 2-

inch

sprig fresh rosemary

2

cinnamon sticks

2

star anise
For the apple cups
Juice from 1/2 lemon

For garnish:

Cinnamon sticks

Fresh rosemary
Instructions:
For the cider
Add the apple cider, cranberry juice, and rum to a large pot set over medium-high heat. Bring to a simmer. Add the apple butter and whisk to incorporate. Then add the cranberries, rosemary, cinnamon sticks, and star anise. Simmer, uncovered, for 10 minutes. Turn off the heat and cover to keep warm.
For the apple cups
Working with one apple at a time, slice off the very top of the apple and discard. Then use a melon baller to scoop out the flesh from the inside of the apple to create a cup shape. Be careful not to get too close to the sides or the bottom of the apple. Keep at least a 1/4-inch on all sides and the bottom to avoid leaks.

Test that the apple cup will sit level. If it doesn't, slice off a thin section from the bottom to level it.

Squeeze a little lemon juice over the cut surfaces of the apple cup to delay browning. Continue making apple cups from the remaining apples.
To serve
Place the apple cups on a serving tray. Ladle the warm cider into the cups. Garnish with additional cinnamon sticks or fresh rosemary, if desired.
Notes:
This recipe makes 6 cups of the apple cider and cranberry cocktail. And each apple cup will hold about 1/2 cup of the cocktail. You could very easily double the cocktail portion of this recipe if you're having a bigger party. And you could even set this up in your slow cooker and keep it on the "low" setting, keeping it warm for hours.
---