In "Cooking up Comfort" we're walking you through all the classics, whether you want to curl up with soup on a rainy afternoon or bake something delicious to celebrate the weekend. Elizabeth Harris of Floating Kitchen brings the flavors of fall to your morning with this Apple Crisp Toast recipe.
Warm, bubbly apple crisp (served up with a scoop of vanilla ice cream, of course!) is one of the dishes that I get the most excited for during the fall season. As someone who grew up in New England, the smell of the spices, fresh apples, and toasty oats all baking together brings me right back to those cool autumn days of my childhood.
An apple crisp isn't usually the first thing that comes to mind when you think about breakfast. But I'm here to get y'all on the bandwagon. My Apple Crisp Toast is made with all the cozy fall flavors found in a traditional apple crisp (toasted oats in butter and apples fresh from the harvest), however, this one is a little slice — yes, an actual slice — of heaven for breakfast.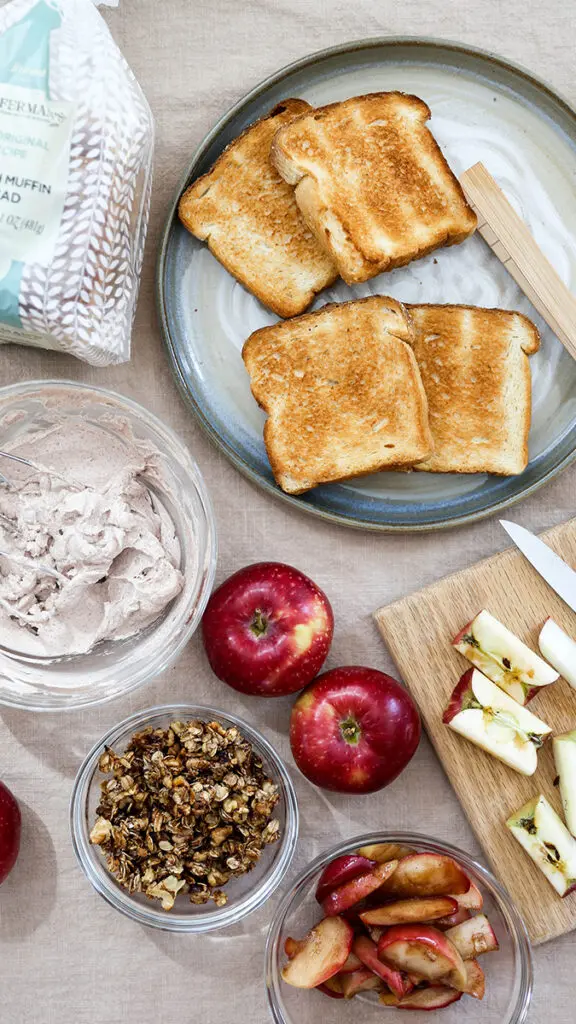 There are four layers to this toast and they are all quick and easy to prepare. Several of them can even be prepared in advance, which makes assembling very simple, even on the busiest of mornings.
The base of this toast uses my favorite kind of bread: Wolferman's English muffin bread. I never run out of ways to enjoy it and it's especially fantastic in this recipe because this bread is thick and sturdy, so it holds up the substantial toppings really well. You can't go wrong with Wolferman's 1910 Original Recipe, but the Cranberry Citrus is another super yummy choice that brings even more fall goodness to this recipe.

The second layer is a delicious cream cheese spread made of maple syrup and cinnamon. Simply blend the ingredients together and you're done! Easy-peasy! I like to use my hand mixer for this step, but you could use a whisk. Or use a food processor fitted with the blade attachment. Even easier! The key to achieving a smooth, well-blended spread is starting with room temperature cream cheese — this will make it so much easier to mix while avoiding any lumps. This spread can be made up to five days in advance and stored in an airtight container in your refrigerator.
The third layer is the apples. Start by coring and slicing (no need to peel) a couple of Harry & David apples. Cook them in a skillet with some maple syrup, cinnamon, salt, and vanilla extract until they just start to soften. You want them to remain firm enough to hold their shape, so it's important to not overcook them. These sautéed apples are the one component of this recipe that I do recommend making just before serving. They tend to get a bit too soft after prolonged storage, and, personally, I like them warm on top of my toast.
And finally, the crunchy oat topping. It's not a crisp if there isn't a topping! Am I right? Start with a dry skillet and toast the oats, walnuts (you can substitute other nuts or seeds, if you prefer), cinnamon, and salt. Once things start smelling good, add in the maple syrup, water, and oil, and stir to coat while everything cooks for an additional three to four minutes. Then spread this mixture out onto a plate to cool to help it crisp up a bit more. Once cooled, the crisp topping can be stored in an airtight container for five days.
See all of my recipe tips in the latest episode of Breakfast at Wolferman's Bakery.
Now it's time for my favorite part: assembling the toasts. Start by spreading a couple tablespoons of your maple and cinnamon cream cheese onto your toasted Wolferman's English muffin bread. Top with the sautéed apples, then sprinkle with the crisp topping and enjoy!
Apple Crisp Toast
Ingredients:
For the Maple and Cinnamon Cream Cheese Spread
8

ounces

cream cheese

(softened at room temperature)

2

tablespoons

maple syrup

1

teaspoon

ground cinnamon
For the Crisp Topping
½

cup

old-fashioned oats

¼

cup

chopped walnuts

½

teaspoon

ground cinnamon

⅛

teaspoon

salt

2

tablespoons

maple syrup

½

tablespoon

vegetable oil
For the Sautéed Apples
2

Harry & David® Premium Apples

(cored and sliced)

2

tablespoons

maple syrup

1

tablespoon

water

1

teaspoon

vegetable oil

½

teaspoon

ground cinnamon

⅛

teaspoon

salt

½

teaspoon

vanilla extract
For Serving
Wolferman's English muffin bread

(toasted)
Instructions:
Beat the cream cheese, maple syrup, and cinnamon in a bowl with your hand mixer until well combined and smooth, stopping to scrape down the sides of the bowl as necessary. Cover and refrigerate until you're ready to use it. The cream cheese spread can be made up to 5 days in advance.

In a dry skillet over medium-high heat, combine the oats, walnuts, cinnamon, and salt. Cook, stirring frequently until fragrant, about 2 minutes. Add the maple syrup and vegetable oil and quickly stir to coat the oats and walnuts.

Cook, stirring frequently, for an additional 3 to 4 minutes. Transfer the crisp topping to a plate and spread it out so it cools to room temperature. Once fully cooled, the crisp topping can be transferred to an airtight container and stored at room temperature for 5 days.

Return the same skillet to your stovetop (no need to clean it out in between uses) and add all the ingredients for the sautéed apples, except for the vanilla extract. Cook the apples, stirring gently, until they begin to soften, about 3 to 4 minutes. Stir in the vanilla extract. Remove the skillet from the heat.

When it's time to assemble the toast, you'll want to use approximately half an apple per slice of bread. Spread 1 to 2 tablespoons of the cream cheese on toasted slices of Wolferman's English muffin bread. Top each with 5 to 6 sautéed apple slices. Then sprinkle with some of the crisp topping. Enjoy immediately.