Kellie from The Suburban Soapbox is sharing a family classic, apple dumplings, and she's made it even easier than the original! Our apples are stuffed with a buttery, brown-sugar blend then wrapped up in flaky pastry dough before being baked to a crispy, golden brown. A fall mush-have!
Fall apple season is in full force and I'm sharing one of my favorite family heirlooms using Harry & David Apples. They're crisp and sweet, and sturdy enough to be baked in a light, flaky, buttery shell.
This Classic Apple Dumpling recipe is one that I grew up with, helping my grandmother stuff apples full of brown sugar, fall spices, and a big dollop of butter before wrapping them up in a homemade pie crust. We then baked them in a brown sugar syrup lightly spiced with cinnamon and nutmeg until the apples were tender enough to eat with a spoon.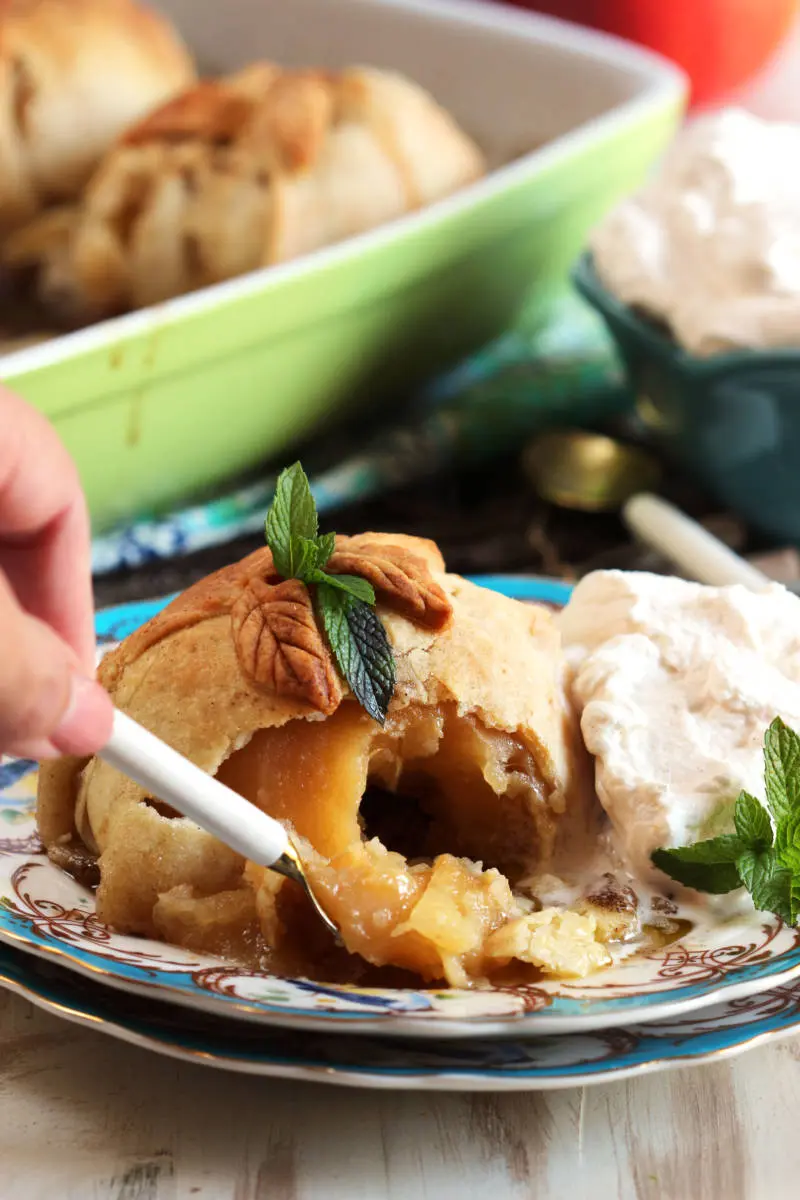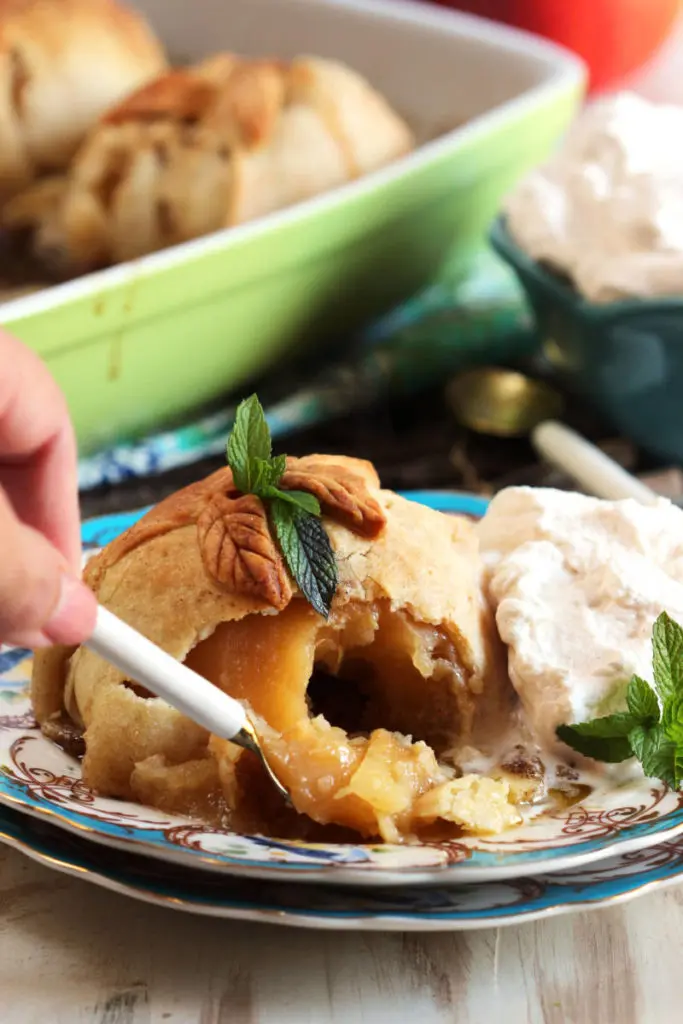 I used my favorite pie crust recipe which comes together in minutes right in a food processor. The dough can be made up to 3 days ahead making this a cinch to whip up. These Apple Dumpling are a great make-ahead dessert for Sunday dinners or weekend entertaining. I love to serve them up with a dollop of cinnamon spiced whipped cream or a scoop of creamy vanilla ice cream.
Don't forget to try our stuffed pears too!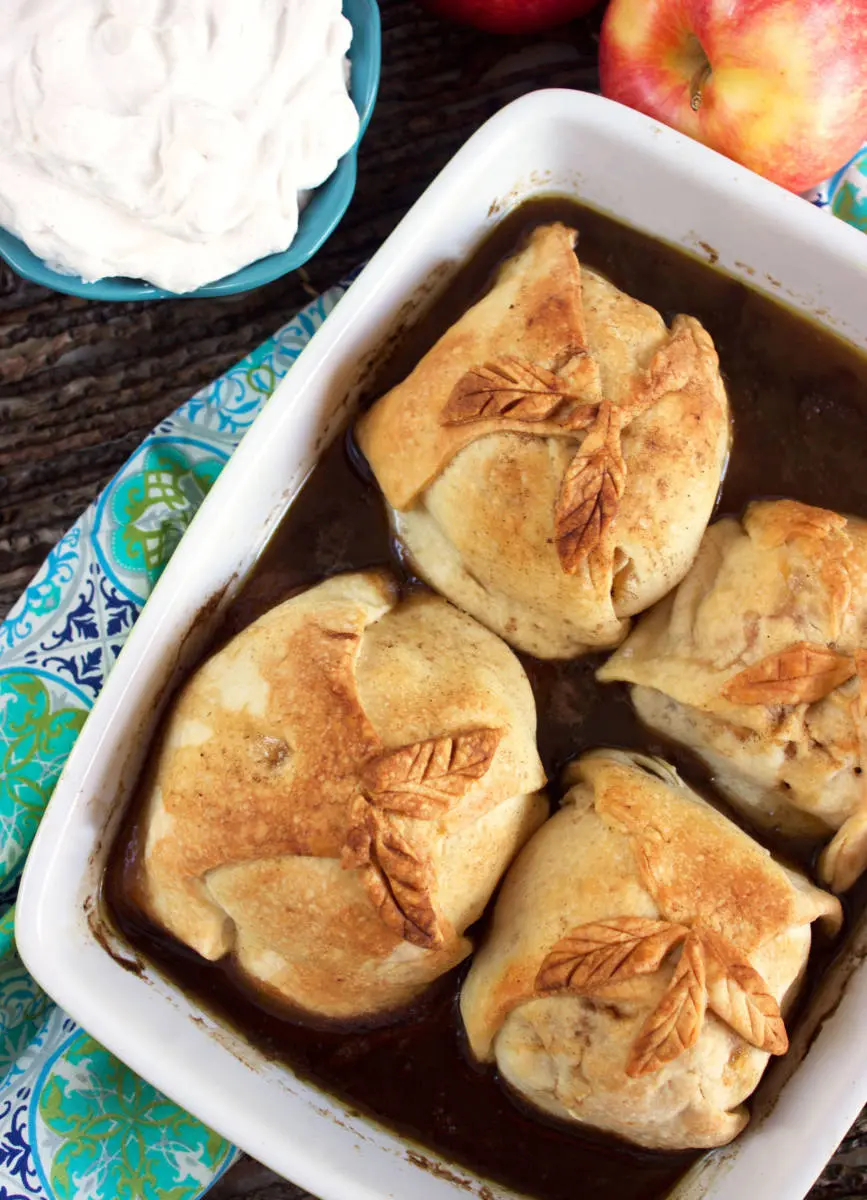 Classic Apple Dumplings
Ingredients:
6

tablespoons

butter

4

apples

(peeled and cored)

2 ½

cups

all-purpose flour

(plus additional for rolling)

2

tablespoons

granulated sugar

2 ½

sticks butter

(cut into 1/2 inch cubes and chilled)

1 ¼

teaspoons

kosher salt

¼

cup

ice water

1

tablespoon

ground cinnamon

½

teaspoon

ground ginger

½

teaspoon

ground nutmeg

1 ½

cup

brown sugar

1

cup

water
Instructions:
Combine the flour, sugar and salt in the bowl of a food processor. Pulse 4-5 times.

Add the butter and pulse until pea sized crumbs form. Slowly stream in the ice water and process the dough until a ball forms, approximately 30 seconds. Turn the dough out onto a lightly floured work surface. Knead the dough until it is completely smooth and the butter is incorporated.

Divide the dough into two equal pieces and form into a disk. Wrap each disk in plastic and refrigerate for 1 hour or up to 3 days.

In a small bowl, whisk together 1/2 tablespoon cinnamon, ginger, nutmeg and 1/2 cup sugar to combine. Set aside.

In a small saucepan over medium heat, whisk the remaining sugar with the water and cinnamon. Bring the mixture to a boil, then turn the heat to low. Simmer until the sugar is dissolved, approximately 5 minutes. Stir in the butter and remove from the heat.

Preheat oven to 375 degrees.

Divide the dough into four equal portions and roll out into a 8-9 inch square. Place an apple in the center of each square and fill with 1 tablespoon brown sugar spice mixture. Top each with 1 tablespoon butter. Gently moistened the edges of the square with water and bring up the corners of the dough to the center. Pinch the edges together to seal.

Place the apple dumplings in an ungreased baking dish and transfer to the oven. Bake for 10-15 minutes or until the crust begins to turn golden brown. Carefully pour the brown sugar syrup over the apple dumplings and continue baking for an additional 35-40 minutes or until golden brown and the apples are tender.

Remove the apple dumplings from the oven and allow to cool for 10 minutes before serving with ice cream or whipped cream.